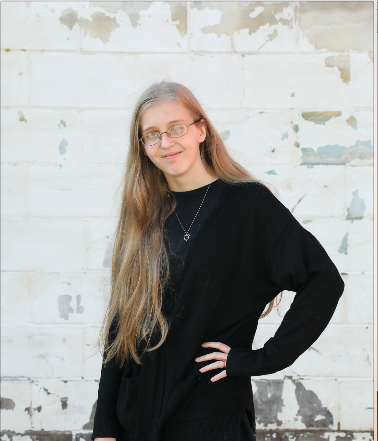 Fingers speedily race across a keyboard.  Words being put onto a document at a rate that allows comfort to the speaker while also providing insight as to what's being said.  A simple "thank you" and "have a good day" closes out the process and the interview wraps itself up.  Ariel Clark is an editor for the school's newspaper, ahsneedle.com, and has been apart of the Journalism department since Sophomore year.  While initially not planning on pursuing it, her advisor Allison Berryhill helped to advocate and push her into continuing along the written path.
Now Clark plans on double majoring in Journalism and Psychology at the University of Iowa.  With a strong opinion (and growing voice,) Clark is very passionate about equality.  Still, she doesn't identify with any particular group or party.  One of the things she adores about Journalism is its neutral stance on the world.
Her hobbies primarily include blasting songs from musicals, wearing cardigans, watching youtube, and playing video games.  Her favourite gaming franchise is Fable (though the third game she found rather bland in comparison to its predecessors.)  Growing up, Clark spent most of her childhood playing the Gamecube and Super Nintendo with her brothers.  Due to this, she has an addiction with playing games of every genre (though she prefers RPGs/MMOs/Metroidvanias.)
Though she has an irrational fear of dogs (and an allergy to cats,) Clark adores huskies due to their docile nature.  While her family dog, Jasmyne, had passed a few months prior to the end of 2020, their family adopted a new puppy named Shiloh before the year ended.  She's grateful for being able to have another puppy.  Her favourite thing to do is over-exaggerate and make friendly jokes/banter in order to make people smile.
Ariel Clark, AHS Needle Editor
Jan 18, 2021

"A" Controversial Grade

(Story)

Jan 12, 2021

How to Form Clubs at AHS

(Story)

Jan 07, 2021

Hats Off, Hats On — OPINION

(Story)

Jan 06, 2021

Zooming Away to Discord — OPINION

(Story)

Jan 06, 2021

Fascinating Face Masks at AHS

(Story)

Dec 18, 2020

The Madrigal Dinner in Photos

(Story)

Dec 14, 2020

Eye See A Dissection

(Story)

Dec 10, 2020

Bigotry in School — OPINION

(Story/Media)

Dec 10, 2020

Let's Letter for a Letterman Jacket

(Story)

Dec 03, 2020

Classy Choices for the Class of 2021

(Story)

Nov 30, 2020

Testing, 1, 2, 3

(Story/Media)

Nov 13, 2020

Behrends in the Lab

(Story/Media)

Nov 10, 2020

Adding up Reasons to see the Addam's Family

(Story/Media)

Nov 03, 2020

Spanish Students Take on "Don Quijote"

(Media)

Nov 02, 2020

A Phastastic Game — Review

(Story)

Oct 28, 2020
Oct 27, 2020

Introduction to Press Conferencing at AHS

(Story)

Oct 23, 2020

Served Straight from Trojan Diner 2020

(Story/Media)

Oct 17, 2020

Mental Decline – How Students Can Get Therapy

(Story)

Oct 08, 2020

Speaking Out Against Public Speaking — OPINION

(Story/Media)

Oct 01, 2020

Homecoming, Homegone

(Story/Media)

Sep 21, 2020

The Future of Choir and Band Events

(Story)

Sep 15, 2020

College Application Changes

(Story/Media)

Sep 09, 2020

SMITE-ing the Competition — Review

(Story)

Sep 03, 2020
Sep 02, 2020

Present Impacting the Future

(Story/Media)

Aug 31, 2020

Center of Attention

(Story/Media)

May 14, 2020

The COVID-19 Journey

(Story)

May 01, 2020

Open Sesame States

(Story)

Apr 09, 2020

Fashion Flip — OPINION

(Story)

Mar 17, 2020

Straining Against Corona

(Story)

Mar 06, 2020

A Clean Getaway

(Story/Media)

Mar 04, 2020

All Inked Up

(Story/Media)

Feb 25, 2020

Atlantic Forensics Sends One to Nationals

(Story)

Feb 14, 2020

Clashing with "Pokémon Sword" — REVIEW

(Story)

Feb 07, 2020

Crush-O-Gram Sales Coming to an End

(Story)

Jan 31, 2020

Winter Formal is Here

(Story)

Jan 29, 2020

No Small Task: Small Engines Class

(Media)

Jan 27, 2020
Jan 21, 2020

Writing Lines with Bireline

(Story)

Jan 16, 2020

Second Semester's New Course

(Story)

Jan 10, 2020

How to Spot Fake News

(Story)

Dec 19, 2019

Behind the Mask of "Majora's Mask"

(Story)

Dec 13, 2019

Read Between the Lines

(Story)

Dec 02, 2019

Hollowing Out "Hollow Knight"

(Story)

Nov 21, 2019

The Secrets Behind Secret Santa

(Story)

Nov 01, 2019

Candy Confessions

(Story)

Oct 23, 2019

An Ax-citing Mystery

(Story)

Oct 09, 2019

New Year, New AOs

(Story)

Sep 25, 2019

Freshman with Knowledge of Finance and Food

(Story)

Sep 06, 2019

Aviation Class Soars at AHS

(Story)

Sep 04, 2019

New Teachers Galore At AHS

(Story)

Jan 21, 2019

100 Word Rants: 2018-19

(Story)

Jan 21, 2019

Getting to Know an Iconic Teacher: Trace Petersen

(Story)

Dec 07, 2018

Tree Decorating Competition Located in Media Center

(Story)

Nov 29, 2018

Students Familiarize Themselves with Latin Music

(Story)

Oct 19, 2018

NEWS BRIEF — Students are Fond of Fondant

(Story/Media)

Oct 04, 2018

NEWS BRIEF — New Mentoring Program Starting at AHS

(Story)