Phoning It in On Cellphones — OPINION
Phones have become commonplace in our society, but what about our school system?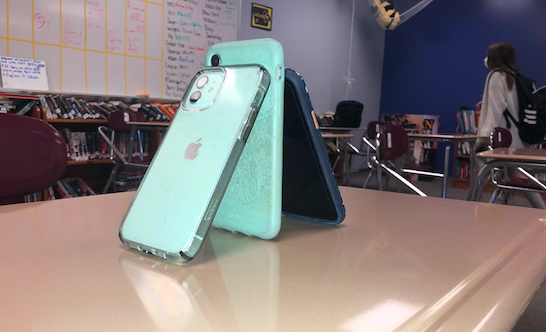 As our society has developed over the generations, cell phones have become much more common as the years pass by. While this is often a positive thing, granting access to the internet or the ability to keep in touch with others, students have become used to abusing this "privilege" whenever they express even slight disinterest in what's going on. It's understandable when a student is on their phone during the last portion of class if they had already finished everything for that day, however, most oftentimes this isn't the case.
I've bared witness to students "hiding" their phones behind a book or their laptop and browsing social media instead of doing an assignment or paying attention to what a teacher is lecturing. Often this behavior goes ignored unless it becomes a major disruption, but I still believe that such a sign of blatant disrespect shouldn't go unnoted. It's different if they have an important reason to be on their phone, but high school should teach students how to properly pay attention and focus on doing their work.
Some students may find themselves unable to work at the time and instead push their work off until later, resorting to their phone in the meantime. This wouldn't be much of an issue if it wasn't for the fact that all of a sudden the assignment doesn't get done and the student complains about "not having enough time," even though they would continue to mess around on their phone when given more time either way.
I'm just disappointed with the number of people who can't be bothered enough to pay attention to a class they chose to take, or a class required and important to know. And while it can be considered fine if a student is only on it during the last portion of class while everything is wrapping up, there's no excuse for a student to walk into a classroom and be on their cellular device for 45 minutes while somebody is trying to teach them.