About
AHSneedle is Atlantic High School's online news source that provides the community with updated stories in sports, opinion, fine arts, school news, and more. AHS Journalism is student-led and is advised by Allison Berryhill.
AHSneedle.com is a 2022 SNO Distinguished Site and posts daily stories that are relevant and entertaining. The site contains staff profiles for current members of the AHS Journalism team. Each editor has a bio written about them, accompanied by a headshot from Ann at Designer Portraits.
On the site, you can find newly written stories, SNO Awards, the Stitch: Student Reviews, a video explaining what AHS Journalism is, an interactive poll, our sponsors, and a live Twitter Feed.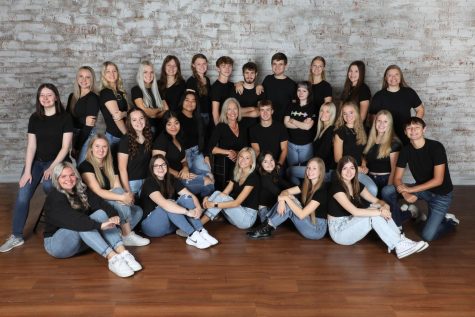 Make sure to check out the other AHS Journalism counterparts. "Eye of the Needle" on YouTube, the Point Podcast, the Thread Podcast, Senior Magazine, and the 2022-2023 Javelin Yearbook.
Our staff works hard to keep up-to-date with social media trends. We post regularly on Snapchat, Instagram, TikTok, Twitter, and Facebook. Our username on all accounts is @ahsneedle.
Our vision for AHSneedle is to bring readers clear and concise reports on all aspects of the school promptly. Content created and posted on our site is meant only to inform students, staff, and the surrounding community. While anyone can suggest what to cover, editors have the final say in what and how it is produced. All articles are reviewed by an editor before publication. Information found will always be cited as so. We encourage contact with our readers, however, all comments on our website will be subject to editor approval before publication.
The current Editors-in-Chief are Elizabeth Anderson and Dakota Oswalt. The editor team consists of Katie Birge, Alyssa Neal, Claire Pellett, and Ally Peterson, with occasional help from Senior Magazine Editors, Eleanor McCalla, Genevieve McCalla, and Abigail Muller.
Awards 
2022-2023
Audience Engagement Badge (SNO)
Continuous Coverage Badge (SNO)
Story Page Excellence Badge (SNO)
2021-2022
Distinguished Site (SNO)
Audience Engagement Badge (SNO)
Story Page Excellence Badge (SNO)
Continuous Coverage Badge (SNO)
Excellence in Writing Badge (SNO)
Multi-Media Excellence (SNO)
Site Excellence Badge (SNO)
2020-21
Finalist, Iowa News Team of the Year (Iowa High School Press Association)
First Place, Class A, Web Design (IHSPA)
Distinguished Site (SNO)
Audience Engagement Badge (SNO)
Site of Excellence Badge (SNO)
Story Page Excellence Badge (SNO)
Continuous Coverage Badge (SNO)
Excellence in Writing Badge (SNO)
Multimedia Excellence Badge (SNO)
2019-20
Finalist, Iowa News Team of the Year (Iowa High School Press Association)
First Place, Web Design (IHSPA)
Story Page Excellence Badge (SNO)
Excellence in Writing Badge (SNO)
Audience Engagement Badge (SNO)
Site of Excellence Badge (SNO)
2021-22
What Students Wish Their Teachers Knew, 2021
A Claus for Concern, 2021
Teachers' Stress in 2021, 2021
Ukraine Invasion Impacting Lives, 2021
2020-21
Dress Code Disguises and Downfalls, 2021
Teachers in Love, 2021
Ken Crane: A Route Not Forgotten, 2021
2019-20
Zoey's in the Driver's Seat, 2020
The Life of a Bus Driver, 2020
What's It Like Having Car Clout?, 2019
2018-19
Girls Wrestling Grows in Popularity, 2019
Getting to Know an Iconic Teacher, 2019
ISASP Testing to Replace Iowa Assessments, 2019
2018-19
Finalist, Iowa News Team of the Year (Iowa High School Press Association)
2017-18
Iowa News Team of the Year  (Iowa High School Press Association)
2016-17
All-Iowa News Team Finalist  (Iowa High School Press Association)
First Place Web Design (Iowa High School Press Association)
2015-16
Third Place News Team of the Year  (Iowa High School Press Association)
2014-15
Fourth Place News Team of the Year (Iowa High School Press Association)
2013-14
Iowa ACLU Robert Mannheimer Youth Advocacy Award
Best of SNO