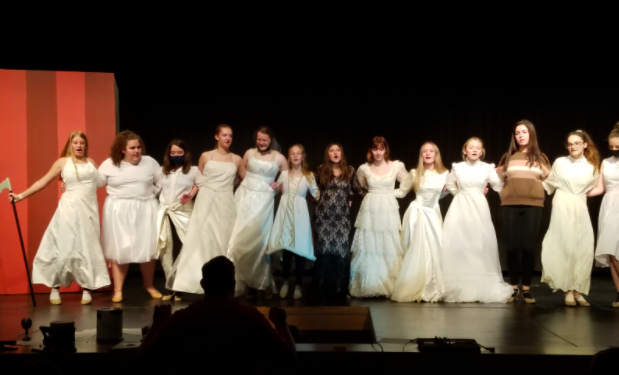 The Magnificent Morticia's Words
Running the strange Addam's household, Morticia Addams, played by senior Genevieve Martinez, orders people to attend the upcoming musical as a perfect way to distract from the problems currently plaguing society.  "We're very fortunate to still be hosting it this year despite restrictions," said Martinez. Getting through issues with scheduling and sickness the cast still has pushed through. She thinks people should just "appreciate it for what it is this year." For people who plan to attend, she hopes for them to follow proper safety guidelines and to enjoy the show.
Martinez likes the "spooky theme" tied into the musical. She also enjoys the differences that the musical provokes, such as a dominating female lead rather than having the man lead the entire thing. "It's very different in a good way."  
She thinks that her role as Morticia is fun to portray due to it being "very sassy and confident" along with elegance. Due to these traits, it's often that her husband is the one doing everything for Morticia. This unique contrast in comparison to history is what Martinez thinks gives the play more life and flavour.
The opening piece, "When You're an Addams," is Martinez's favorite song due to the amount of choreography involved. She also enjoys the way the song introduces everyone's personalities "just at first glance." Martinez said, "Everyone gets their own part in that song."