Speaking Out Against Public Speaking — OPINION
Public speaking is a skill bestowed upon select students, leaving the rest to awkwardly suffer through giving class presentations, which may also be partially graded on speech etiquette.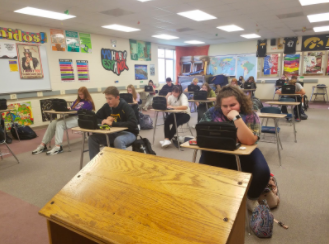 Eyes, boring into the soul as if trying to decipher the meaning behind every word and syllable that spills from lips. Hands, shaking in anticipation and fear, desperate to fidget with something that doesn't exist. A cough, to cover up the cracks that have formed during the speech. What should only last a few minutes seems to span lifetimes as nothing but the droning and breaking voice sharply shatters any silence granted from the class. With a last shaky breath, it's finished. Returning to a seat, another student briskly walks past to start the cycle anew.
Public speaking is a skill pushed in a multitude of classes, no matter the subject. From power-point presentations to memorized speeches, it is often enforced onto students during middle school and leaks itself into the high school curriculum. I am atrocious at public speaking. Being forced to go in front of, most often, my peers and have the only sound in the room be my voice is a great way to torture my soul and break my mental state. Granted, it's much easier when it's an assigned group presentation or a slide-show so the observers can have something to focus on other than yourself.  
Naturally I understand the need for certain classes, such as Spanish, to require it in order to help students grasp the language better and improve their verbal skill or sentence structure. However, I feel as if many classes, particularly in the English department, require and grade based off of a student's presentation and their ability to maintain eye contact while giving their speech. I believe that this should be taught in Speech class and not a required course that can determine if a student moves on into the next year or not. Of course these speeches don't tend to overtake the grade, but it's still something that I have seen people stress over for weeks to the point where the presentation itself is useless since everyone is too preoccupied worrying over how they'll do in comparison to what the others are saying.
Alternative methods, such as a different assignment or breaking into smaller groups, could alleviate these flaws. If a teacher is worried that their students will not properly interact with each other due to clashing personalities or friend groups, then they can always self-assign the groups instead. Junior Reece Andersen also finds presentations in class "absolutely terrifying."  
Andersen believes that the teacher can be the deciding factor in if their class is uncomfortable or not. "Some teachers are too stubborn to actually make changes for certain students," said Andersen. He believes that there is a "fine line" between people who are opting to not do their work and "people who are actually terrified to present." Andersen would prefer any alternative method in comparison to giving a speech, or at least something that lessens the pressure put upon the speeches.
About the Contributor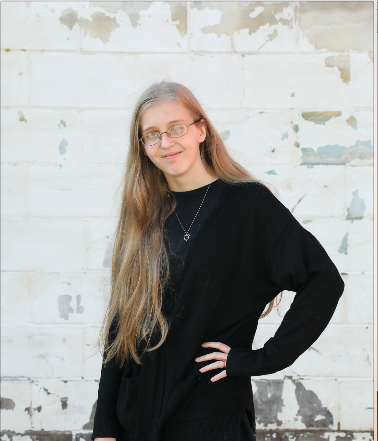 Ariel Clark, AHS Needle Editor
Fingers speedily race across a keyboard.  Words being put onto a document at a rate that allows comfort to the speaker while also providing insight as...