Getting to Know an Iconic Teacher: Trace Petersen
Well-known at AHS, American History teacher Trace Petersen shares details about his life.
Trace Petersen has been the American History teacher for Atlantic High School for 14 years and counting. He began in 2005, with the intent to retire closer to his family. Originally from Elkhorn, Petersen graduated from Elkhorn Kimballton before going to Iowa Western in Clarinda for two years and then Northwest Missouri State to finish his college education.
His first two years of teaching were spent in King City, Missouri. From there, Petersen went on to spend 10 years in Panora, Iowa, then moved once more to Washington, Iowa for four years. His final teaching destination is now Atlantic, where he became an American History teacher for the freshman class. Despite only teaching American History, Petersen also has degrees in Sociology and Government. Therefore, in his previous destinations, he was allowed to teach world history but was content with the American History offered at AHS. Despite his non-technological upbringing, Petersen admits he could try incorporating more of it into his teaching method.
Well known for saying the phrase, "Yep, lock it up," Petersen said the saying came from "a movie that I watched that I can't remember." A student of his even framed the saying, and it is now proudly displayed on his desk for classes to see. This isn't his only famous line, as he is also known for sarcastically using the phrase, "the world needs more ditch-diggers," referring to students refusing to do their work. Petersen said he "stole" this phrase from his brother, who first heard it from the movie "Caddyshack" and has been using ever since.
"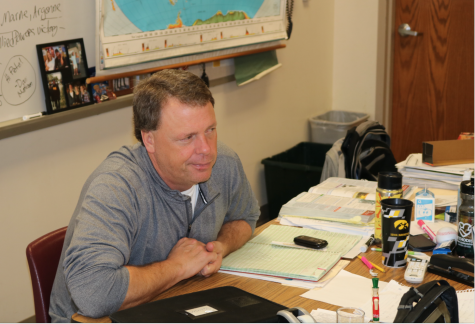 I wouldn't change my childhood for anything in the world.
— Trace Petersen
Raised in a family of seven children, consisting of six boys and one girl, Petersen grew up in Kimballton, IA just 15 miles north of Atlantic. Petersen's father was a marine and his mother was a stay-at-home wife. "I wouldn't change my childhood for anything in the world," he said. Petersen claims that he and his siblings spent most of their time outdoors playing basketball, baseball, football and even hockey when the creek froze over during the winters. With no cable TV to watch, he and his siblings knew that "if we had to stay inside, mother made us clean."
Petersen has two sons: Coel and Taylor. Coel is 29 and lives in Denver, CO. He is a financial consultant with Edward Jones and granted Petersen his first grandchild in February of 2018, which means frequent car rides to visit. Taylor is 26 and just graduated from the United States Navy Officer Candidate School in Newport, Rhode Island. He will be going to Norfolk, VA, making for yet another place Petersen will be visiting often.
Petersen's brothers are also history teachers, so naturally, he followed suit. With his father being a marine, he already had an important tie with history and his teachers throughout the years only fueled his excitement. Mr. Jimmerson, a teacher of Petersen in eighth grade, piqued his interest in the Civil War. Another teacher that inspired him was his sixth grade English teacher, Mrs. Redman, who taught for 60 years and acted as a mother figure to her students. She earned respect from Petersen by how much she loved her job.
The inspiration never wore off, and Petersen proudly claims that he loves his job. "I knew what I signed up for when I became a teacher." He believes that if a person truly doesn't love their work, then they shouldn't do that job. He also believes that people shouldn't bicker with others over issues, and firmly states that people should "not like, but tolerate" each other.  "I view myself as a very happy, positive person," Petersen said. He likes to see people smile and is dismayed at how much negativity goes on in the world today. Well known for his sarcasm, he uses this as a way to make students laugh and create a joyful atmosphere.
"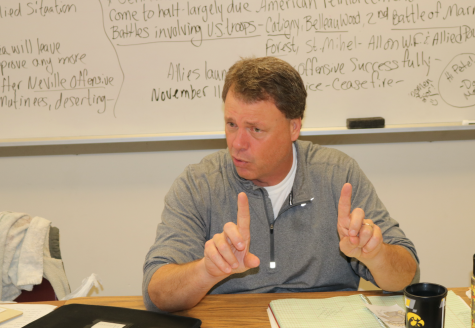 I view myself as a very happy, positive person.
— Trace Petersen
Hobbies of his range from coaching eighth-grade boys basketball, seventh-grade girls basketball and junior high track, as well as reffing in football and umpiring in baseball. He also likes to fish, golf and do anything to stay busy. One of his more unique hobbies is painting. Petersen said he loves to paint houses as a side job due to his love of architecture. His childhood never left him, and he still favors being outdoors more than indoors. Petersen enjoys car rides with his wife, allowing her to read him stories on their journey to visit their kids or going on vacation.
Petersen believes that if he was no longer able to teach, he would become a child psychologist.  "Parents have become too caught up and selfish with themselves and not concerned as much with their children's lives," he said. He advises students to put forth the effort to talk to a teacher face-to-face if they're struggling, "rather than emailing, texting or calling."
View Comments (4)
About the Writer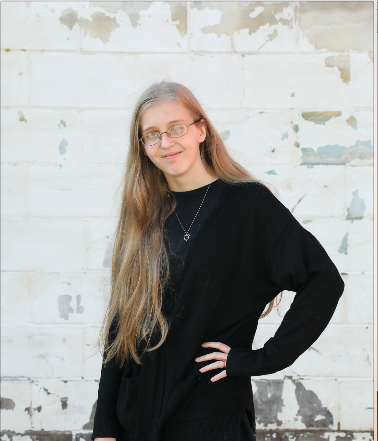 Ariel Clark, AHS Needle Editor
Fingers speedily race across a keyboard.  Words being put onto a document at a rate that allows comfort to the speaker while also providing insight as...