Aviation Class Soars at AHS
A new course offering at the high school becomes extremely popular with students.
Hang on for a minute...we're trying to find some more stories you might like.
"Never turn down an opportunity to learn." After the departure of math teacher Morgan Staashelm, fellow math teacher Lisa Sonntag decided to try and take on the Aviation class. She was sent to Maryland, to the headquarters of the AOPA (Aircraft Owners and Pilots Association). The AOPA is the largest aviation association in the United States. There, her and others interested in aviation were given three days of hands-on training with the writers of the class curriculum.  
Currently, only one year of the four-year course is available, but any grade can decide if they want to take the class or not. There isn't a limit on how many kids can join, and currently the class has accumulated 20 students. "The class itself is built around two particular things. One, the principles of engineering and the science standards that's behind those," Sonntag said. This allows the students to learn how planes can fly. "The other goal of this course is to introduce students to different careers in aviation and different areas of aviation."  
The students will be working on a lot of labs throughout the year. Some of these include balloon rockets, hot air balloons, testing the wings of various planes, sending a marshmallow peep to "Mars," testing gliders, drones, and more. Students are also able to use one of the two unique flight simulators, each having 3 monitors to help simulate a plane's view. When deciding to take this class, students must remember that "it's an elective but it's a lot of work." They will be required to have standard communicative skills, as there's a lot of group work involved. There's also a lot of science intertwined with the class.
Currently, the class isn't competing in any mechanical contests outside of the school. However, this could change if the class ends up being successful. While they may not compete with other schools, they do have competitions between each other. The class is currently working on balloon rockets. The first one to touch the ceiling is considered the winner. One of the goals Sonntag wishes for her students is for them to explore the field of aviation. "I hope that they are able to navigate all the careers in aviation." If they decide they don't want to pursue a career, then at least they had the opportunity to check it out.
About the Writer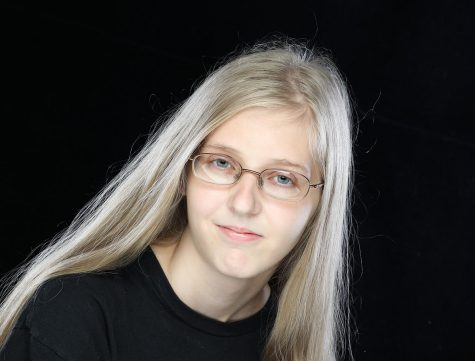 Ariel Clark, AHS Needle Editor
Ariel Clark is just one of the many journalism editors at Atlantic High School. She first joined the journalism team because she adored advisor Allison...