Strong as Steele
Various forms of support from the community and surrounding schools have been directed towards the McLaren family.
Senior Steele McLaren was involved in an accident Sunday, Oct. 25. Immediately there was an outpour of support from the community and school. Several events hosted by students, parents, and other school districts were organized in order to lend their support to the McLaren family. Fundraisers to help cover the expenses of medical costs and traveling have been set up for those who wish to donate.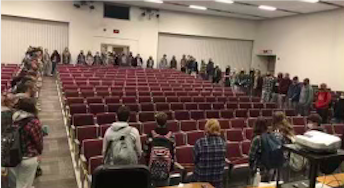 Students showed up to school on Monday, Oct. 26 wearing grey on grey with a flannel by the request of junior Garrett McLaren. This movement was called dress like "Steele Day." Students from other buildings in Atlantic, as well as other schools across Southwest Iowa, also chose to dress like Steele. On the same morning there was a prayer session for Steele McLaren held in the auditorium at 7:30 a.m. and organized by seniors Maycie Waters and Craig Alan Becker. Becker found the session to be an "extremely supportive" atmosphere for Steele and his family. "We were all there out of concern for Steele and a desire that he would get better," said Becker.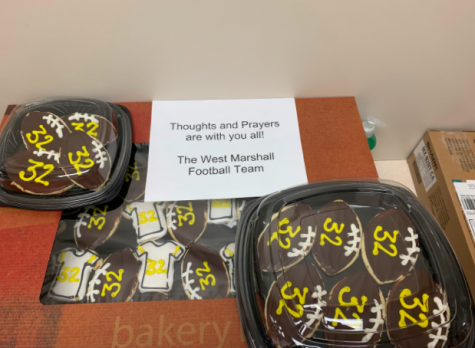 Football teams from other schools including Audubon, Glenwood, Red Oak, Des Moines Christian, and West Marshall showed their support by spreading the "#32Strong" tweet with their own words of encouragement. Some football teams took to their fields and knelt down in an event titled "Kneel for Steele." Meanwhile, "StrongAsSteele" apparel can be ordered before Nov 8, with funds being sent to the McLaren family in order to fund their medical and travel expenses.
The family also made a Facebook page, "Praying For Steele, #32Strong," where updates and fundraiser information can be found. A medical account has been set up at Rolling Hills Bank and Trust. Those who wish to donate can make checks payable to Dustin McLaren or Jess Ellis and mail checks to 1307 E 7th St. Atlantic, Iowa 50022. There is also a Gofundme for Steele McLaren and his family.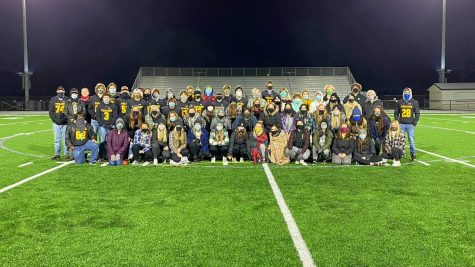 Senior Kennedy Goergen ordered 1200 bracelets that say "Strong as Steele #32Strong." The bracelets will be available for purchase on Thursday, Oct. 29 for $2. Goergen will be selling them in the high school parking lot from 11 a.m. to 1 p.m. and 5 to 6 p.m. The proceeds will go to the McLaren family. 
Currently Steele is stable and continuing to meet his goals. After a good day Steele's mom, Jess Ehrman, said on Facebook, "By no means are we out of the woods, but this is a step in the right direction." The family asks for continued thoughts and prayers for Steele and his friends and family.