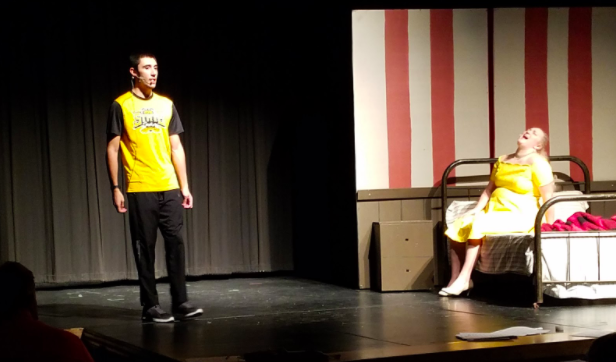 Mal's Machiavellian Words
Junior Alex Sampson, playing the role of Malcom Beineke, believes that people should come to the musical in order to see the fun environment and great cast list. "Everyone fits their character," said Sampson. His favorite part about the event is learning new things and figuring out scenes before the event.
His character, nicknamed Mal, is a "stuck up businessman from right-wing Ohio" that's "used to being the one that runs everything." As the father of Lucas, portrayed by senior Colten Tasto, this is Sampson's first time in a leading role position.
Sampson's favorite song is "Crazier than You" since his character "finally realizes that he's not a stuck-up person anymore." Once the song finishes, Sampson is glad that his character doesn't "have to mope around on stage anymore." The song is split into two parts, with the second half being led by characters Mal and Alice, Mal's wife. Aside from that, he loves the song "Not Today" due to Nolan Perez's performance as Gomez Addams. "He just does a great interpretation of it."