All Inked Up
Tattoos are often used to represent memories or symbols that are significant to someone's life.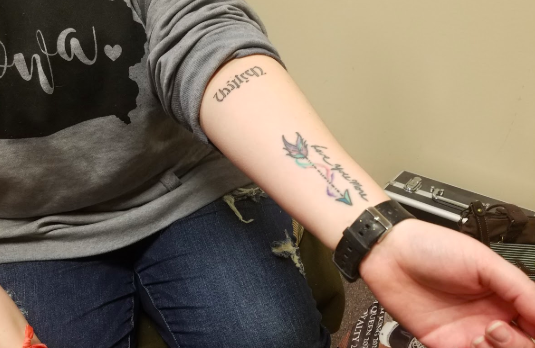 From simple to complex, inking one's skin can provide a far greater meaning than what they first appear to be. Several students and faculty members sport tattoos. With the written consent and presence of a parent, anyone ages 14 to 18 can get a tattoo. People older than 18 don't require a parent's permission. Teachers are also allowed to have visible tattoos, unless it's of inappropriate imagery, which they then will be required to have it covered. 
The process of getting a tattoo is a long one. Many people wishing to get inked wait over an hour at the tattoo parlor to pick out their design, get it applied, and learn how to care for it properly.
Sophomore Jaci Smith has five different tattoos scattered across her body. From a rose decorating her arm as remembrance to her late great grandpa, to her parent's handwriting on the back of both elbows, each one has a different story to tell. "My first tattoo was very significant to me," Smith said. Every June, her family travels to South Dakota, which is where she gets her tattoos done. The pain wasn't what Smith originally expected it to be. "It actually wasn't that painful on my shoulder blade." Her plan is to spread her shoulder piece, consisting of leaves and words, down to a half sleeve.
"
It's a different kind of pain."
— Mallory Kirchhoff
Mallory Kirchhoff is a paraeducator at AHS. With eight tattoos, each bring a new story to light. She got her first tattoo when she was a junior in college on Valentine's Day. After informing her mother of the decision, she and a friend went in for their first time. "It's a different kind of pain," Kirchhoff said. She said the ones on her feet hurt the most, while the ones on her arms offered the least amount of pain. On her arms are tattoos that match ones also found on either her mother or father. While Kirchhoff doesn't originally plan on getting more tattoos, she can't resist the idea of adding to her ink collection. "I want to say no but probably," Kirchhoff said.