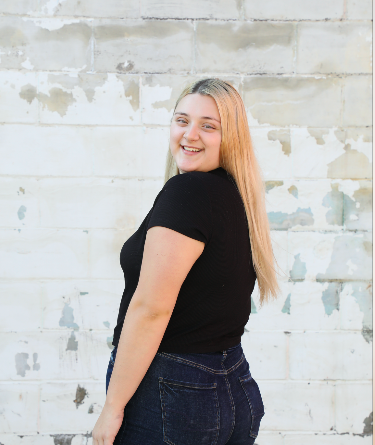 Senior Camryn Church is an editor for AHSneedle.com. "I really enjoyed having Berryhill as an English teacher, and she recommended joining journalism because I liked writing a lot," Church said.
Church is involved in a number of different extra-curricular activities outside of journalism including choir, speech, musical, play, and tennis. She said that the choir is by far her favorite. Church said what she really loves about it is all the friends she has in it that she works very well with. In choir, she's a soprano one, which is among the highest voices within the choir. 
Although the choir is her favorite, Church also has a love for musicals. "My favorite musical changes a lot,
but I think one that I always will come back to is 'Mamma Mia.'" Her favorite memory throughout high school was the time the power went out the afternoon before the Saturday preformcane of "Anything Goes." "All of us were like ready with our phone lights to go out and put on a show," said Church.
Church said that if she could identify herself with a TV show character it would be Carole Baskin. "It's not for the reason you think," said Church. "I don't necessarily want to kill my husband, but I like the aesthetic of wearing leopard print and owning an animal sanctuary." Church said, "I don't know why I've convinced myself I'm Carole Baskin, but it's a part of me now."
After graduation, Church said she wants to attend UNI, but is not certain. She said she would like to study psychology for counseling, specifically wanting to work with children. "I think we can learn a lot from them," said Church.
Story by Alexis Peterson
Camryn Church, AHS Needle Editor
Nov 25, 2020

Gathering For Thanksgiving

(Story)

Nov 18, 2020

Staying Well This Winter

(Story/Media)

Nov 11, 2020

The Election Results Are In

(Story)

Nov 10, 2020

Which AHS Restroom are You?

(Story/Media)

Nov 03, 2020

Spanish Students Take on "Don Quijote"

(Story)

Oct 28, 2020
Oct 17, 2020

Volleyball Girls Battle it Out

(Story)

Oct 13, 2020

Top Ten Spooky Season Activities

(Story)

Oct 05, 2020

Putting in the Hours

(Story/Media)

Sep 29, 2020

COVID Cases Spike in Cass County

(Story/Media)

Sep 24, 2020

Student Voters at AHS

(Story)

Sep 18, 2020

Girls Volleyball Powers Through

(Story)

Sep 14, 2020

"Mamma Mia! Here We Go Again is a Flop — OPINION

(Story)

Sep 10, 2020

Having Different Political Opinions Than Your Parents — OPINION

(Story/Media)

Sep 02, 2020

Varsity Volleyball Girls Sweep Tournament

(Story)

Aug 31, 2020

White House Rose Garden Remodel Faces Backlash

(Story)

Aug 26, 2020

Senator Grassley Continues 99 County Tour

(Story)

May 26, 2020

We All Scream for Ice Cream

(Story/Media)

May 12, 2020

What's Baking?

(Story/Media)

Apr 08, 2020

Let's Talk About "Tiger King" — REVIEW

(Story)

Mar 26, 2020

The COVID-19 Diaries

(Story)

Mar 11, 2020

Look Out, Here Comes "Little Shop of Horrors"

(Story/Media)

Mar 06, 2020

Another One Bites the Dust

(Story)

Feb 28, 2020

Do You Really Know Randall Simpson?

(Story/Media)

Feb 24, 2020

Strange Dreams at AHS

(Story/Media)

Feb 18, 2020

Spaghetti Supper Funds Upcoming Music Trip

(Media)

Feb 13, 2020

A Look For a Special Occassion

(Story)

Feb 06, 2020

Meet a Dirt Bike Hauss: Zane Brownsberger

(Story)

Feb 05, 2020

AHS Dominates District Speech

(Media)

Feb 03, 2020

Caucus Season Kicks Off in Iowa Tonight

(Story)

Jan 28, 2020

An Update on the Class of 2019

(Story)

Jan 15, 2020

Passing Period Anthems

(Story/Media)

Jan 10, 2020

On the Brink of War?

(Story/Media)

Dec 20, 2019

Joe Biden Dropping by Atlantic on Sunday

(Story)

Dec 18, 2019

Dead or Alive: Juice WRLD

(Story)

Dec 12, 2019

Madrigal Creeps Closer

(Story)

Dec 09, 2019

The Soccer Grind Doesn't Stop

(Story)

Dec 02, 2019

Pete Buttigieg Speaks to the People of Atlantic

(Story)

Nov 21, 2019

School Board Meeting Sparks New Beginnings

(Story)

Nov 21, 2019

Pete Buttigieg Coming to Atlantic Monday

(Story)

Nov 13, 2019

You Can Drive My Tractor

(Story)

Nov 05, 2019

The Tea on the Tower Trees

(Story/Media)

Oct 29, 2019

Activity Equality — OPINION

(Story)

Oct 21, 2019

How ADHD Affects Students

(Story)

Oct 21, 2019

Trojan XC Compete in Hawkeye 10 Meet

(Media)

Oct 11, 2019

Got Play-Doh?

(Story/Media)

Oct 07, 2019

When was the Last Time You Cried?

(Story/Media)

Sep 24, 2019

The Dangers of E-Cigs and Vaping

(Story/Media)

Sep 16, 2019

What to Know Before You Caucus

(Story/Media)

Jan 21, 2019

100 Word Rants: 2018-19

(Story)

Jan 17, 2019

District Large Group to be Held on Saturday

(Story)

Sep 28, 2018

NEWS BRIEF — All-State Competition is Approaching

(Story)