Netflix Original "Bridgerton" — Review
The Netflix series "Bridgerton" was a smash hit with young adults and teens alike.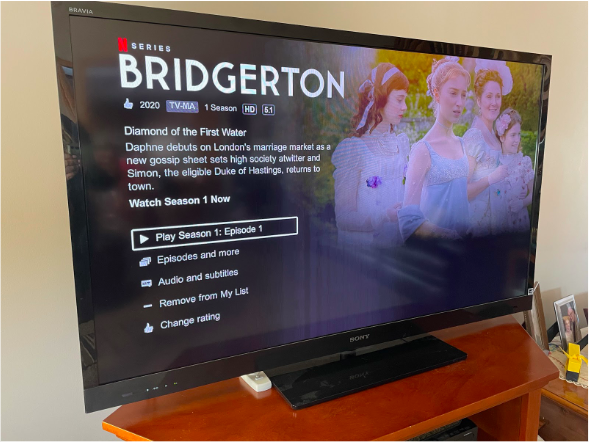 Fearful mothers hounding potential suitors, a duke that refused to marry, the perfect lady to be wed, a gossiping writer with a pseudonym. Bridgerton is a whirlwind series that transports you back to the early 17th century. With a cast of talented actors and actresses, this series will leave you in awe of the beauty in this time period. 
While there is only one season, each episode is about an hour long. There are eight episodes in season one, and fans speculate there will be another season soon due to the large stream turnout. Since it's December 25 release date, the series is projected to reach 63 million households, deeming it the fifth largest Netflix Original launch. 
The whole season has one main love interest, but there are multiple sub-plots containing other surprising turns and dramatic meetings. One of the characters is Lady Whistledown, who is the head of gossip and drama in the city of London. She writes pamphlets that contain the latest and juiciest gossip about the town's courting season. 
The majority of the series follows the Bridgertons, a very well regarded family in the social classes of London with tons of money to boot. The family contains a widow and her eight children. As the eldest daughter and main character, Daphne Bridgerton readies for courtship, she finds herself part of a ruse with the Duke of Hastings, Simon Basset. The pair had staged their relationship to avoid the mothers of the other ladies in pursuit of suitors. While this keeps the fame mongering mothers at bay, they soon find themselves falling for each other. 
The costumes were elegant, and the actors and actresses made you feel like you yourself were in the scenes with them. The party dresses were stunning with silk and beaded bodices. The characters even had fluffy fans to show off their riches. 
I highly recommend watching Bridgerton if you have not yet seen it. While the beginning was a little slow, the show soon picked up the pace and I had to be careful to not miss anything. Without spoiling the end of the season, the finale will leave you absolutely speechless.