Letters From a Loved One
Senior Gwen Irlmeier has a handmade card business, each card made individually with watercolors and a calligraphy pen.
How often do you give someone a card? For Senior Gwen Irlmeier, giving out cards is a way to spread love among her friends and family members. Irlmeier wanted to start designing and creating custom cards so others could spread the same love. "It lets someone know that you're thinking of them," Irlmeier said. To make the masterpieces, Irlmeier uses watercolors to paint the flowers and a felt tip pen to create the calligraphy. All of her cards have a stamp on the back labeled "Handmade by Gwen Irlmeier."
Camryn Church
Irlmeier's love language is words of affirmation and through creating cards, she is able to express and share her love. "It's just a special way to feel that you are loved and to feel that encouragement from someone," She said. The past year Irlmeier has been giving her handmade cards to family and friends to show her support and love. 
Spreading love and encouragement is what inspired Irlmeier to begin making her cards. She follows a base design, but since all of her cards are handmade, no two look completely identical. She is also able to make a unique design for anyone that wants a special look.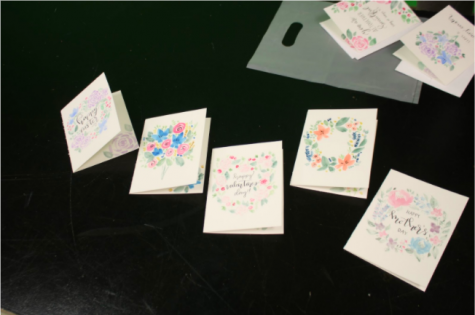 Irlmeier's relationship with faith also plays a role in what she does. "A lot of the cards that I make will have some sort of bible verse or faith-based inspiration," she said. Although she still plans on creating and selling cards once she gets to college, she is unsure whether or not she will have time. "Right now, it's really fun. I can also earn some little side money doing it," Irlmeier said. 
Anyone interested in purchasing a card made by Gwen can contact her through social media, @cards.bygwen, or consult with her in person. Every card she makes is five dollars and can be personalized to each individual's liking.