The COVID-19 Vaccine: How it Works and Why I Got It
COVID-19 vaccinations have begun to reach the public.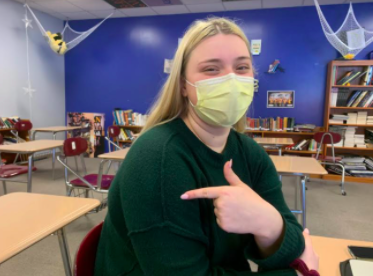 Over a month ago my boss, at the nursing home I work at, came to me and asked if I would like to be vaccinated for COVID-19. My answer was an obvious yes, at least from my point of view. I received my first vaccine on Jan. 17. My first priority behind getting this vaccine was to protect the residents I work with. Even though I get tested frequently, there is still a possibility I could be passing this horrible virus to residents whose immune systems could already be compromised. 
My second reason is much more personal. As a senior, the effects of the virus have been seriously detrimental to last year of high school and the activities I have missed because of COVID-19 restrictions. I just want the opportunity to have some form of normalcy this year and the vaccine is one of the first steps to achieving this. 
I received the Pfizer vaccine and it felt like nothing more than the flu shot. I am not a big fan of needles, but I can barely call this a painful shot. The meningitis shot hurt more than this. I felt no effects the day of the vaccine, but the next day I was drowsy and had a few body aches, including a massive headache. After the second day, I was pretty much fine except for some tenderness lingering in my arm. 
There are two FDA approved vaccines in the U.S. right now, the Pfizer and Moderna. My mom, also a health care worker, received Moderna two weeks before I got my first vaccine. She had similar side effects, but hers were much more intense than mine. With the Moderna the time period between the two shots is 28 days, while Pfizer is 21.
A significant difference in the vaccines is that Moderna is targeted at those eighteen and older, while Pfizer is suitable for anyone who is older than sixteen. There is also a slight difference in percentage of efficiency with Moderna coming in with 94.1%, while Pfizer has 95%. Both vaccines are slightly less effective if the recipient is over the age of 65. 
There is also an issue of storing the vaccines. Moderna's storage temperature is much more attainable at -4ºF, but Pfizer's, according to STAT, requires a special "ultracold" freezer that sits at -94ºF. Moderna is safe in the fridge for 30 days, but Pfizer must be used five days after thawing. 
If given the opportunity to get vaccinated, I would recommend you go for it. Even with the short term side effects either vaccine brings, it is important to do our part as a society and regain some much needed normalcy after almost a year of complete chaos and mayhem.