A Look For a Special Occassion
Students are offering makeup application services to friends and peers.
Prom is just around the corner, and the girls of AHS are buying dresses and making arrangements. More specifically, many are making plans to have their makeup professionally done. Makeup is a staple for those attending Prom, and most have a plan set out months in advance to make sure their day goes smoothly. Makeup looks can be bold and glam or more subdued and natural-looking. Whatever the case, makeup artists can create the look. While some may be confident using makeup, others might like some help. Enter junior Kaden Mahan and sophomore Kenzie Hoffman. The two are offering their mad skills to give students their perfect look for Prom.
Mahan and Hoffmen have made arrangements to apply students' makeup at the YMCA on the day of Prom. The event is from 1 p.m. to 3 p.m. on Saturday, April 4, and free for anyone interested in going. The only thing attendees need to bring is their own foundation. "If they come in and want something a little more glam, we'll give them glam. We'll give them a bright eyeshadow with some sparkles, or anything that they want us to do," Hoffman said. There is no payment required to receive captivating makeup. "Kaden and I just want to help" people who want some assistance, Hoffman said. 
"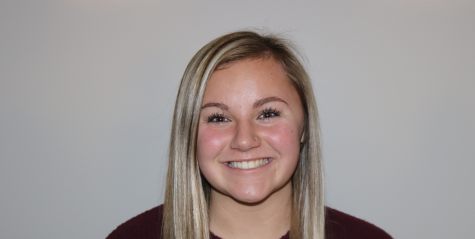 Whoever needs their makeup done for Prom…Kaden and I are willing to do that for them.
— Mackenzie Hoffman
Hoffman recently interviews Mahan for a journalism story on makeup and "Kaden had mentioned doing makeup for Prom," she said. Hoffman and Mahan worked together to set things up, and find a venue to apply others' makeup. "Girls, or whoever needs their makeup done for Prom and they can't afford it, Kaden and I are willing to do that for them," Hoffman said. 
Hoffman got into makeup when she was in middle school. "At first it was because I was insecure with myself," Hoffman said. But then she "fell in love with makeup and how it can change your face." 
Junior Reagan Watson is also doing other people's makeup for Prom. Watson got into makeup a couple of years ago when she started watching beauty gurus on Youtube. "I was really amazed by the talent they all had and I knew then I really wanted to do it," Watson said. Watson is doing a few people's faces for Prom, including senior Hana Holtz. There isn't any payment necessary, but Holtz is buying Watson chicken and fried rice from Rancho Grande in exchange for the service. Watson is doing mainly natural looks on her friends. "I really like to wait until they have their dresses picked out to pick out the looks I will be doing on them," she said. 
Juniors and seniors will attend Prom on Saturday, April 4.