Seniors Prep to Throw the Cap
Seniors received a packet about their future cap and gowns for graduation.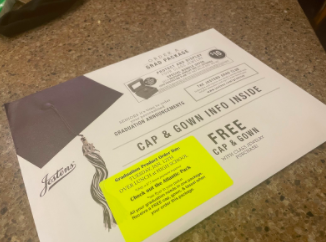 Wednesday, Jan. 6 the class of 2021 received a package and form to order their cap, gown, tassel, and other senior gear. Inside the packet, there was a form and a booklet that students could look through to decide what goodies to stock up on with their graduation attire. 
Senior Reagan Watson is "nervous but excited" to be graduating this year. Watson is planning to purchase the "Atlantic Pack" which comes with many other things beyond just the cap and gown. Watson is holding out for a graduation ceremony with strands or normalcy. "I hope we can figure out a way to have as many people as possible because I have a lot of family members that would love to come and see me graduate. Whether that's doing graduation outside or live streaming, I'm down for it," she said.
Jostens will be at lunch on Tuesday, Jan. 12 to collect the seniors' orders. Students and parents can also choose to order their cap and gown online.