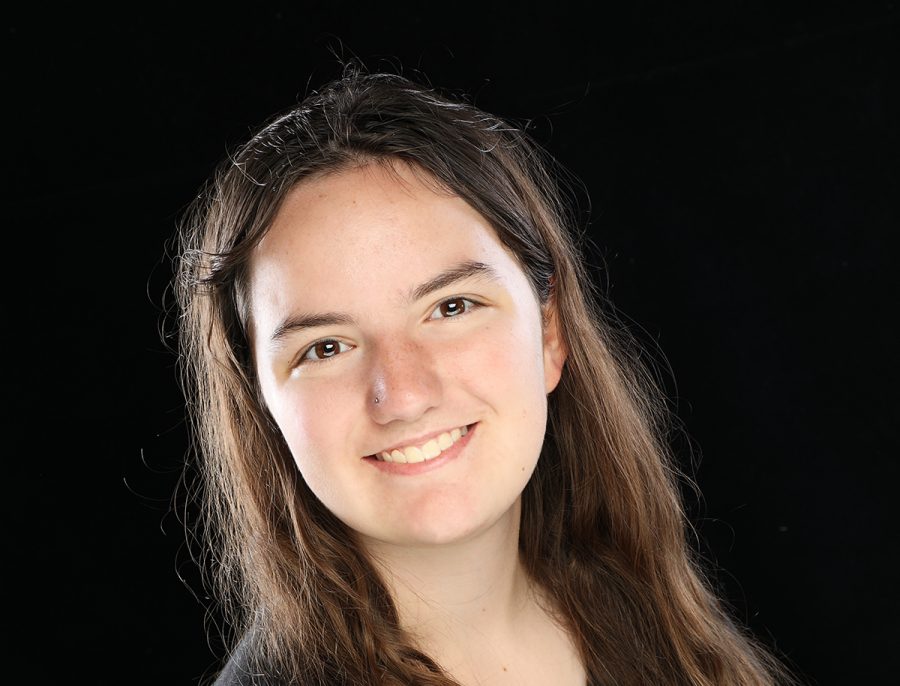 Grace Clay is an editor on the AHS Needle journalism team. Clay mainly writes reviews, but this year she has "branched" out and begun writing cross country stories. Journalism has helped her writing over all, and it has also lessened her nervousness when it comes to interviews or talking to people she wouldn't normally talk to. "It also helped me form my opinions and a new vocab to voice those opinions," she said. Clay is always excited for the journalism conference in Iowa City. "I want to visit the campus," she said.
Clay is involved in activities in addition to journalism. She has been a drum major for the Atlantic Trojan Guard since the beginning of her junior year. "
Sometimes there are difficult situations you have to deal with, but at the end of the day, it's about the band, not about you." 
During symphonic band,  Clay plays first part saxophone. She has also been in the musical pit sophomore through senior years and is teaching herself to play the guitar. At the moment, she plans to attend the University of Iowa to be an Instrumental Music Education major. 
Clay has played soccer for a few years and again last year.  She also loves being able to put projects into the Cass County fair through 4H. Clay works at the Atlantic Theater and the quilt store Something for You.
by Carina Birkel
Grace Clay, AHS Needle Editor
Jun 08, 2020

"V for Vendetta" — Review

(Story)

May 29, 2020

"Mr. Right"— Review

(Story)

May 27, 2020

"The Willoughbys" — Review

(Story)

May 25, 2020

"Infinitely Ordinary" — Review

(Story)

May 18, 2020

The Quest for the Best Appetizer — OPINION

(Story)

May 08, 2020

Movies and Shows For Your Quarantine Delight

(Story)

May 06, 2020

"Weird Science" — Review

(Story)

Apr 15, 2020

"Onward" — Review

(Story)

Mar 17, 2020

The Environmental Impact of AHS

(Story/Media)

Mar 06, 2020

Another One Bites the Dust

(Media)

Feb 24, 2020

DC's New Addition: "Birds of Prey" — REVIEW

(Story)

Feb 17, 2020

Strong Day at State Speech

(Story)

Feb 12, 2020

Atlantic Musicians Attend ISU Honor Band

(Story)

Feb 05, 2020

AHS Dominates District Speech

(Story)

Feb 03, 2020

My Top Ten Songs of the 2010s

(Story/Media)

Feb 03, 2020

Caucus Season Kicks Off in Iowa Tonight

(Media)

Jan 28, 2020

Crowds Out For "Knives Out" — REVIEW

(Story/Media)

Jan 13, 2020

Cast List for "Little Shop of Horrors" Drops

(Story)

Jan 09, 2020

Australia Taken Over by Bushfires

(Story)

Dec 10, 2019

History on the Screen — "Midway" Review

(Story)

Dec 05, 2019

12 Days of Christmas…Movies

(Story)

Dec 03, 2019

MCRIB: My Chemical Romance is Back

(Story)

Dec 02, 2019

Pete Buttigieg Speaks to the People of Atlantic

(Media)

Nov 22, 2019

The Most Influential People Behind Jazz

(Story)

Nov 22, 2019

"Thank GOD For Rednecks" — A "Zombieland: Double Tap" Review

(Story/Media)

Nov 14, 2019

My Top Ten Country Songs

(Story)

Nov 07, 2019

Lettering in Academics

(Story)

Nov 06, 2019

Atlantic Theatre Under New Ownership

(Story/Media)

Nov 05, 2019

Cross Country Season Ends in Fort Dodge

(Story)

Oct 31, 2019

The Sad Truth of Disappointed Parents

(Story)

Oct 29, 2019

Boys Cross Country Team State Bound

(Story)

Oct 23, 2019

Movies to Watch This Spooky Season

(Story)

Oct 21, 2019

Trojan XC Compete in Hawkeye 10 Meet

(Story)

Oct 17, 2019

No Jokes About It: A "Joker" Review

(Story)

Oct 14, 2019

Cross Country Continue Season at Home

(Story)

Oct 08, 2019

Trojan XC Run Hard Against Tough Competition

(Story)

Oct 01, 2019

"Rebel Without A Cause": 64 Years Later

(Story)

Oct 01, 2019

Trojan XC Working Hard This Season

(Story)

Sep 26, 2019

The Love and Hate of ASMR

(Story)

Sep 25, 2019

Trojan XC Continues To Prosper

(Story)

Sep 23, 2019

Expectations vs Reality: High School Edition

(Story/Media)

Sep 19, 2019

Trojan XC Continues Season Strong

(Story)

Sep 13, 2019

Boys and Girls XC Stomp Out Competition

(Story)

Sep 10, 2019

Trojans Start XC Season Strong

(Story)

Sep 04, 2019

Tuition: Answering Your Burning Questions

(Story)

Sep 04, 2019

New Teachers Galore At AHS

(Story)

May 29, 2019

My Top Ten Songs of the 2000s

(Story)

May 23, 2019

Soccer Girls Enter Skid Before Regional Quarterfinal

(Story)

May 16, 2019

End of the Game? More Like Beginning of the Game — AVENGERS: ENDGAME REVIEW

(Story)

May 14, 2019

Trojan Golf is Winding Down

(Story)

May 14, 2019

Trojans are Victorious Over Bulldogs

(Story)

May 10, 2019

Trojans Fight For the Win

(Story/Media)

Apr 29, 2019

Trojan Girls' Soccer Plays St. Albert and Harlan

(Story)

Apr 26, 2019

Trojans Dominate the Green

(Story)

Apr 25, 2019

My Top Ten Songs of the 1990s

(Story)

Apr 23, 2019

Trojans Fall to Cardinals and Spartans

(Story)

Apr 22, 2019

DISGRACELAND: Disgraceful or Phenomenal? — A Podcast Review

(Story)

Apr 22, 2019

Trojans Compete In Two Meets

(Story)

Apr 15, 2019

My Top Ten Songs of the 1980s

(Story)

Apr 15, 2019

Shazam!: A Review

(Story)

Apr 11, 2019

Girls' Soccer Plays Lewis Central and Missouri Valley

(Story)

Apr 10, 2019

Girls' Tennis Falls to Fillies

(Media)

Apr 10, 2019

Girls' Golf Defeats Glenwood

(Story)

Apr 09, 2019

Girls' Golf Starts Rough But Bounces Back

(Story)

Apr 08, 2019

Girls' Soccer Falls to Tri-Center Trojans

(Story)

Apr 03, 2019

Trojan Girls' Soccer Enters Shootout Against Knights

(Story)

Apr 01, 2019

Girls' Golf Tees Off

(Story)

Mar 29, 2019

Girls' Soccer Kicks Off

(Story/Media)

Mar 21, 2019

My Top Ten Songs of the 1970s

(Story)

Mar 20, 2019

The Kree vs The Skrulls — Captain Marvel Review

(Story)

Feb 28, 2019

My Top Ten Songs of the 1960s

(Story)

Feb 07, 2019

My Top Ten Songs of the 1950s

(Story)

Jan 21, 2019

Haulin' Drugs and Haulin' Stars — REVIEW

(Story)

Jan 10, 2019

Area Jobs Available for High School Students

(Story)

Dec 18, 2018
Dec 04, 2018

Behind the Scenes of Trojan Diner

(Media)

Nov 27, 2018

"Fantastic Beasts" is Back — Review

(Story)

Nov 15, 2018

NEWS BRIEF — SWIHMB Sweeps Atlantic

(Story)

Nov 09, 2018

Queen Kills it on the Silver Screen — Review

(Story)

Oct 30, 2018

Back at it Again with Michael Myers — Review

(Story)

Oct 10, 2018

Students Cry Over Spilled Milk

(Story/Media)

Sep 26, 2018

AHS Girls' Swimming Wins AL Meet

(Story)

Sep 18, 2018

Media Center Status Yet to Be Determined

(Story)

Sep 13, 2018

Girls' Swim Team Improves from Dowling

(Story)

Aug 29, 2018

Girls' Swim Team Makes a Splash

(Story)

May 24, 2018

Avengers: Infinity War — Review

(Story)

May 15, 2018

Getting to Know the Class of 2018: Emily Saeugling

(Story)

May 07, 2018

Getting to Know the Class of 2018: Olivia Hemphill

(Story)

Apr 24, 2018

NEWS BRIEF — AHS Blood Drive

(Story)

Nov 14, 2017

The Wrecks Music — Review

(Story)