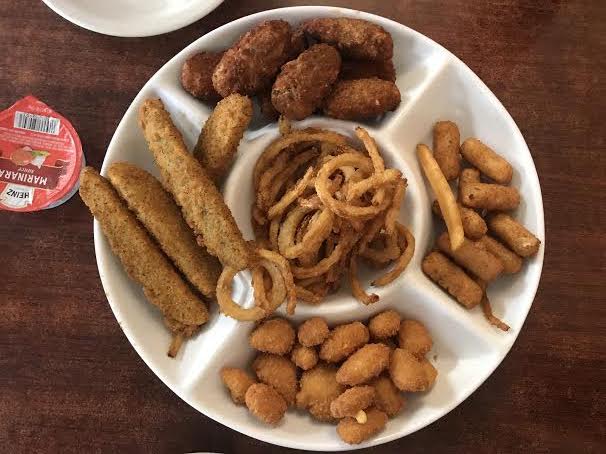 West Side Diner
GRACE:
For the appetizers, we dropped by West Side Diner on 7th street in Atlantic. We ordered the "Sampler Plate" with cheese balls, onion rings–although they were called "onion tanglers" in the menu–jalapeño poppers, mozzarella sticks, and fried pickle spears. 
My personal favorites were the jalapeño poppers and the fried pickles. In my opinion, the jalapeños were not very spicy, but they were still very good, dipped in ranch and not. The fried pickles were fantastic both by themselves and dipped in ranch. I wasn't a huge fan of the cheese balls or mozzarella sticks, but I'm also not a big fan of cheese unless it's shredded, in a bag, and 3 a.m., or on my spaghetti. 
HANA:
Sunday, Feb. 2 was a very important day in history. For starters, it was Groundhog Day. Secondly, it was Super Bowl Sunday. Finally, Grace and I began our quest of tackling some of the area's appetizer platters. We started off with West Side Diner in Atlantic. Their self-titled "Sampler Plate" comes with "onion tanglers surrounded by your choice of four items" as stated on the menu. Diners can pick from cheese balls, corn nuggets, onion tanglers, onion petals, mushrooms, mozzarella sticks, poppers, chimmies, and breaded pickle slices. We selected the poppers, mozzarella sticks, cheese balls, and breaded pickle slices. 
The main event was the onion tanglers–which is their code name for onion rings. If you're a person who likes your rings to have less onion and more breading, this is the place to go. 
A notable moment from this experience was I tried my first fried pickle. The pickles were speared and had very good breading. It brought a good variety to the plate. The fried pickles were my favorite appetizer we tried from West Side, with the jalapeño poppers coming a close second. The poppers were very juicy and had a lot of cream. 
The Sample Plate at West Side Diner–regardless of what appetizers patrons choose to fill it with–costs $10.