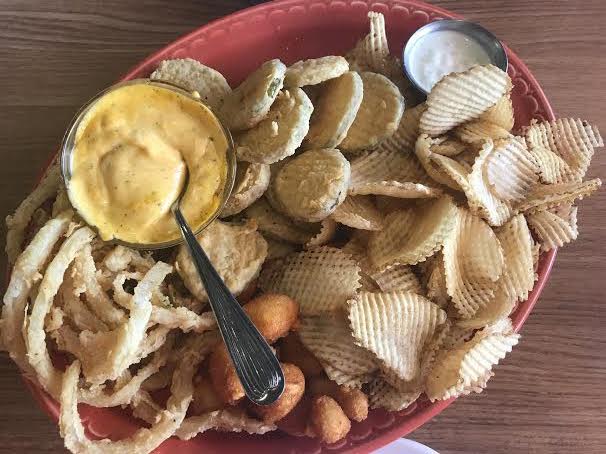 Weitzel's
GRACE:
The second place we went to was Weitzel's and it's also on 7th street in Atlantic. The appetizers combo had potato chips, fried pickles, cheese balls, and onion rings. 
The potato chips were basically really thin waffle fries and had a good vibe. With the combo, they brought out homemade ranch and homemade cheddar ranch. The potato chips were good dipped in both. The next thing we tried were the fried pickles. They were tasty with both regular ranch and the cheddar ranch but tasted better with the regular, or by themselves. The cheese balls were okay, but I'm still not a cheese person. The onion rings were fantastic. They didn't give me Funyun vibes and they tasted more like onions than the breading.
HANA:
Three weeks later, we set out for Weitzel's in Atlantic. We ordered their "Classic Combo," which boasts onion rings, cheese balls, fried pickles, potato chips, cheddar ranch dip, and ranch dressing. 
The first thing we tried from the plate was the potato chips because they were not the run-of-the-mill addition to an appetizer platter. The potato chips were like thin waffle fries and reminded me of jacket fries in taste. The ones on the top had this solid, satisfying crunch that really drove home their vibe. My other favorite from the platter was the onion rings. The breading was homemade, but not so thick that you couldn't taste the onions. Of the restaurants around the area that offer onion rings, Weitzel's has to be one of the best.
Let's also give a special shoutout to the two dips on the plate: the regular and cheddar ranch. Of the two, I like the cheddar ranch most just because it was something different. 
The Classic Combo at Weitzel's costs $12.25.