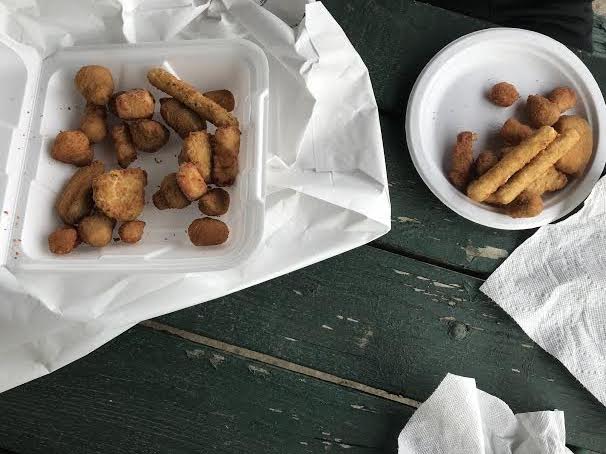 The Redwood Steakhouse
GRACE:
The final place we stopped at was the Redwood Steakhouse, located in Anita. We had the sampler plate of appetizers, which consisted of cheese balls, jalapeño poppers, fried mushrooms, mozzarella sticks, and broccoli cheddar melts.
The first thing we tried was the cheese stick, which I thought was pretty good and had a little zest to it. Then we tried the broccoli cheese melts which I thought tasted like those Fareway chicken grillers, minus the chicken. They were really good, too. The jalapeño poppers were not as spicy as I would have liked, but they still tasted good. The cheese balls were just the standard run-of-the-mill cheese balls, but there was one that was only breading. The long cheese balls kind of gave be pizza bite vibes. The more of those fried mushrooms I eat from different places, the more bad vibes I get from mushrooms.
HANA:
We wrapped up our tour of appetizer plates last weekend at the Redwood Steakhouse in Anita. Once again, we opted to carry-out our apps and chow outside. The Redwood's "Sampler Plate" contains cheese balls, mozzarella sticks, mushrooms, jalapeño poppers, and broccoli cheddar melts.
My favorite from the Redwood Steakhouse's Sampler Plate was 100 percent the broccoli cheddar melt. I was unsure what to expect when trying it–a quick glance and you might think it was a chicken nugget–but was blown away by the taste. My mom makes a really good broccoli-cheese casserole, and this was like having that casserole deep-fried. I recommend the broccoli cheddar melt very highly. It was one of my favorite things we tried upon going to these four places. I'm also going to give the mozzarella sticks a nod; they were the first thing we tried and started the party off right.
While the menu lists two cheese-related items, there were actually three. There was your classic cheese ball, three long mozzarella sticks, and a bunch of tater-tot looking mozzarella sticks. There was lots of cheese in this combo, which is fine by me, but I could have done with more jalapeño poppers and more broccoli cheddar melts. We were given two poppers and three melts compared to at least fifteen cheese-related items.
The Sampler Plate at the Redwood Steakhouse can be purchased for $16.45.