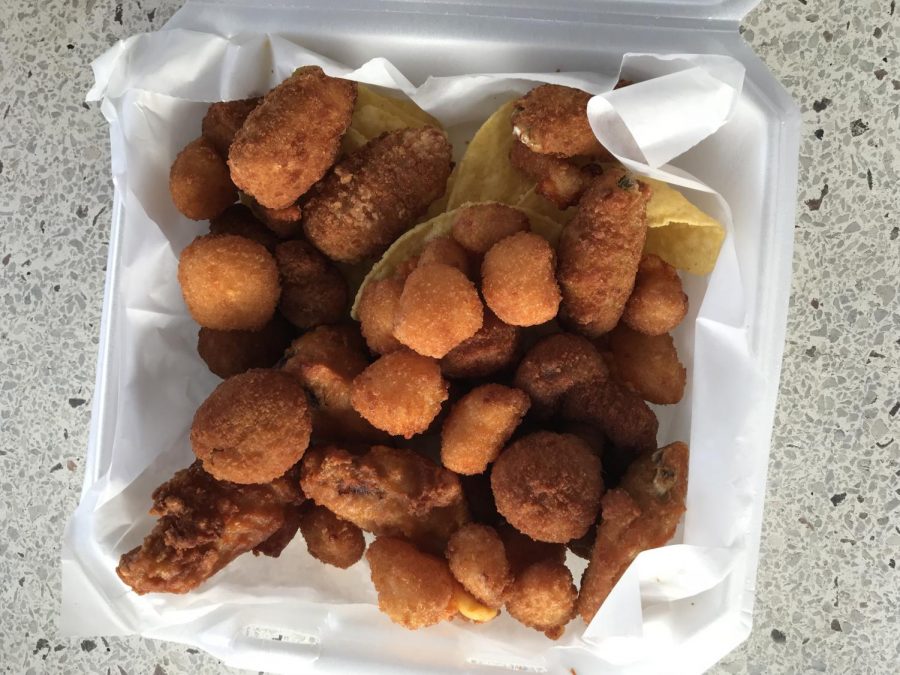 The Barn Burner
GRACE:
The Barn Burner is probably one of my favorite places to eat and I think they have fantastic food. We tried their cheese curds (aka cheese balls), buffalo wings, jalapeño poppers, mushrooms, and chips and salsa. Whenever I go out to eat with my family, they always get the same type of appetizers: cheese balls. The same applies to when we go out to eat at the Barn Burner. I don't mind cheese balls but they aren't my favorite. The buffalo wings tasted good but I didn't think they were spicy. The mushrooms weren't bad but I am not a big mushroom fan. They have a weird texture. The chips and salsa were a nice unexpected surprise.
HANA:
We weren't able to visit our next stop until April, and we ate outside, picnic-style. On Wednesday, April 1, we rolled up to the Barn Burner in Brayton. We copped their "Combo" in a to-go box. On the menu, it states customers can find "cheese curds, buffalo wings, jalapeño poppers, and beer-battered mushrooms" in this mixture. However, Brayton added in chips and salsa to our order along with all of these goodies. It was a cute surprise.
My top two from the Barn Burner were the jalapeño poppers and the chips and salsa. Of the places that offered jalapeño poppers, the Barn Burner's were the spiciest. That being said, if you aren't a fan of heat, you would likely be able to handle these. The chips and salsa earn the mention because it was nice to see some variety in a platter. Plus, we weren't expecting them. The buffalo wings add to the variety as the Barn Burner was the only place we visited that included wings as part of a combo platter.
The Combo at the Barn Burner can be purchased for $10.99.