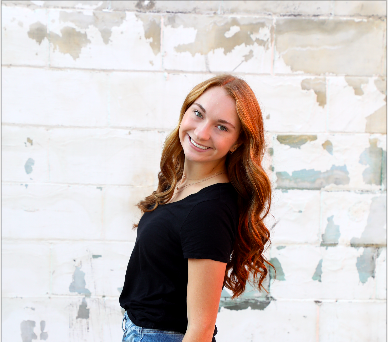 Senior Kennedy Goergen is one of the yearbook lead editors. As a yearbook lead editor, Goergen said, "We basically create and design the yearbook. Which means picking colors and designs and then I work on pages." She said her favorite thing to do as a journalist is take pictures, especially at cross country meets because "there is so much emotion that goes into it." Journalism is her favorite class because she likes how it's student driven and you have a lot of freedom. 
Goergen is involved in softball and track. In softball she plays first base and "will occasionally get into pitch." In track she runs 400s and 800s. Out of those two events, she likes the 800s the best. Goergen said, "My favorite event would definitely be the 4x800 because I'm running with my teammates and we get to push each other and work more as a team."
 In her free time Goergen said, "I like to walk my dogs or watch 'Greys Anatomy' on Netflix."  She has three dogs: two shih tzus and one goldendoodle. The shih tzus names are Jordy and Leia and they are both nine years old. Her goldendoodle is named Vada and she is one and a half years old. Goergen said she takes them to Well fields to walk them all the time. "It helps exercise them, but also keeps me exercised and moving," she said.
Story by Chloe Mullenix
Kennedy Goergen, Yearbook Editor in Chief
Oct 19, 2020

Third Place for Trojan XC

(Media)

Oct 14, 2020

Trojans Trample the Tigers

(Media)

Oct 06, 2020

Trojans Secure District Title

(Media)

Sep 28, 2020

Girls Volleyball Senior Night

(Media)

Sep 21, 2020

Trojan XC Takes to Pella

(Media)

Sep 18, 2020

Girls Volleyball Powers Through

(Media)

Sep 16, 2020

Trojans Set to Play in Glenwood

(Media)

Sep 01, 2020

Masks and Mindfulness at the Trojan Bowl

(Media)

Sep 01, 2020

Starting the Season

(Media)

Aug 31, 2020

Trojan Football Kicks Off the Season

(Media)

Aug 28, 2020

Time for Trojan Time Trials

(Media)

Feb 18, 2020

Meet a Stud: Haley Rasmussen

(Media)

Feb 04, 2020

Two Losses for Atlantic Girls Basketball

(Media)

Dec 18, 2019

Revenge of the Trojans

(Media)

Dec 13, 2019

Trojans Crush Cardinals

(Media)

Dec 12, 2019

Boys Basketball Picks Up First Win of Season

(Media)

Dec 06, 2019

Girls Basketball Loses First Conference Contest

(Media)

Nov 05, 2019

Cross Country Season Ends in Fort Dodge

(Media)

Oct 21, 2019

Trojans Go Out in Style at the Trojan Bowl

(Media)

Oct 18, 2019

Freshmen in the Varsity XC Lineup

(Media)

Oct 14, 2019

Cross Country Continue Season at Home

(Media)

Oct 09, 2019

Volleyball Team Puts in Weekend Work

(Media)

Oct 08, 2019

Atlantic Girls Take On Kuemper

(Media)

Oct 04, 2019

Gaining Varsity Volleyball Experience as a Freshman

(Media)

Sep 23, 2019

Volleyball Girls Drop One at Home

(Media)

Sep 10, 2019

Trojans Start XC Season Strong

(Media)

May 14, 2019

Trojan Girls Track Headed to the Blue Oval

(Story)

Apr 11, 2019

Girls' Track Wins Lady Panther Relays

(Story)

Apr 10, 2019

Girls' Track Finishes Second and First

(Story)

Apr 02, 2019

Girls' Track Places Third at Denison

(Story)

Mar 23, 2019

Trojan Girls' Track Starts Off the Season Right

(Story)

Feb 05, 2019

Trojan Basketball Pinks Out Panthers on Senior Night

(Media)

Jan 21, 2019

100 Word Rants: 2018-19

(Story)

Jan 18, 2019

Atlantic Sweeps Clarinda in Boys'-Girls' Doubleheader

(Media)

Jan 17, 2019

Close Game for Trojan Girls

(Story)

Dec 11, 2018

Atlantic Boys Drop One to Creston

(Story)

Nov 26, 2018

Girls' Basketball to Host Hall of Pride Scrimmage

(Story)

Nov 16, 2018

Meet a Five-Sport Athlete: Chase Mullenix

(Story)

Nov 12, 2018

Boys' Basketball Welcomes New Coach

(Story)

Oct 22, 2018

NEWS BRIEF — Trojans Prepare for State Cross Country

(Story)