Meet a Stud: Haley Rasmussen
On the court and on the track, junior Haley Rasmussen enjoys being involved in athletics.
Junior Haley Rasmussen has been involved in sports since a young age. She has participated in volleyball, basketball, dance, softball and track during her high school years. Rasmussen enjoys all of the sports she participates in. For her junior year, Rasmussen is involved in volleyball, basketball, and track. Balancing work and practice isn't always easy, she makes sure she gets her homework done, which can cause her many late nights.
 She has been competing in track since seventh grade. She has made a name for herself in the track world from making it to State two years in a row. Rasmussen grinds in the 200, 400, 100, and long jump events. During her freshman year, Rasmussen made it to State in the 4 x 200 relay and long jump. In her sophomore year, she made it to State in the 4 x 400 relay, distance medley, open 200, and long jump. Rasmussen works hard at practices and is always helping others to keep going. Rasmussen said she becomes close with her teammates due to the highs and lows of the competitive season. She always smiles through the grind.
In volleyball, Rasmussen is the setter for the Trojans. She has played this sport since sixth grade. Rasmussen reached 1,000 assists during the 2019 season, and she also contributed to the first conference win in eight years, in which Atlantic beat Creston in five sets. She always makes sure she has a smile on her face and tries to get through the struggles and help her team members out.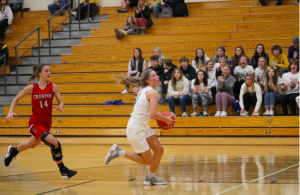 Rasmussen has played basketball since she was in the third grade. On the floor, she plays in the guard position. Rasmussen said, "Basketball is the hardest sport I play." She hopes her team continues to build on the success they have had in the 2019-20 season. She enjoys becoming close with her teammates and loves to bond with them. 
Girls varsity basketball coach Dan Vargason said he enjoys Rasmussen in practice and on the court. He likes her positive attitude and great work ethic. Vargason said her strengths with her attitude make her an overall good athlete. The 2019-20 season has been a highlight reel for Rasmussen. Against Creston, she hit a career-high 35 points. "She makes the game look easy," Vargason said.
Currently, Rasmussen is helping her basketball team tackle the postseason, while also prepping for track in the spring. The Atlantic girls basketball team plays Red Oak on Wednesday, Feb. 19 for the Regional semifinal game.