Gaining Varsity Volleyball Experience as a Freshman
Two freshmen names appear regularly in varsity volleyball games.
Aubrey Guyer and Abby Smith suit up for varsity volleyball as freshmen. In fact, Guyer starts. She is a middle hitter in the varsity lineup. Smith plays freshmen volleyball, along with subbing in for varsity. Her position is outside hitter. "I have played volleyball for three years," Smith explained. Guyer has played volleyball for 2 years.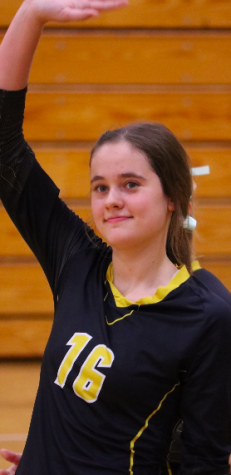 Guyer said she plays JV and varsity only. "I don't think that my freshman teammates get mad at me or anything for playing varsity." Guyer also explained that she doesn't feel any pressure from suiting up for varsity as a freshman. "I don't get nervous until game day arrives," Guyer said. She also doesn't feel that the other schools would care that she suits. "When they hear that I am a freshman, I don't think that they would be as intimidated. I don't really think that I am an underdog."
During the offseason, both Guyer and Smith lift weights to prepare for the season. They also work on their craft. "The coaches have helped us out tremendously," Guyer and Smith said.
Smith commented on the change from competing at the middle school level to high school volleyball. "Our teammates have been super supportive throughout the transition. They don't really get mad at us or anything," she said.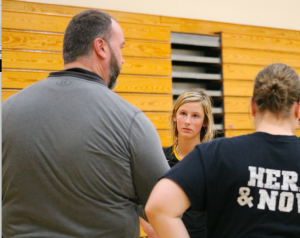 The two girls' favorite part about volleyball is "hanging out with the team." They also said they enjoy bonding as a team. Guyer spoke about her goals for the rest of her high school career. "I want us to win more conference games. I want to go to state, and to win a regional game."
Both players commented on how middle school and high school volleyball differ from each other. "It's a lot faster paced in high school," Guyer said. "There are going to be harder practices in high school," Smith explained.
To wrap it up, both girls gave a reason why people should try volleyball. "It makes you a better person," Guyer said. Smith also commented, "You have to have a good amount of mental toughness to play the sport."