Girls' Track Wins Lady Panther Relays
The Trojan girls' track team brought home their second first-place finish for the season.
Hang on for a minute...we're trying to find some more stories you might like.
The Trojan girls traveled to Creston on Monday night and earned their second win of the season with a total of 190 points. They kicked off the night by taking first and second in long jump with Haley Rasmussen and Grace Bruckner, while Caroline Pellett finished third in high jump. Junior Anna Lowary said, "I think our team has grown so much from the beginning of the season. We have all been improving and been working really hard in practice which is making us become better."
Those practices have also seen a change. The Trojans had a new addition to the coaching staff this year with head coach Matt Mullenix. "Coach Mullenix has been a great addition to the program," Lowary said. "He really brings new energy and really knows what he's doing." According to Lowary, Mullenix helps everyone on the team, rather than focusing on a specific group. "I think if Mullenix stays as the coach we can really grow as a team. Our program has grown a ton already and we have a lot of stuff that can still be pulled out of us."
The sprint medley placed second with a team of Aspen Niklasen, Cambry Miller, Alyssa Derby and Taylor McCreedy. Addison DeArment received her first individual gold in her high school career in the 3000m run. The 4x800m relay finished second with a team of Kennedy Goergen, Pluma Pross, Karsyn Rush and Madison Botos.
Shuttle hurdle brought home the only relay gold of the night with a lineup consisting of Heidi Williams, Mia Trotter, Pellett and Lowary. Running her first 100m dash of the season, Rasmussen took the top spot. "I have improved from last year so I'm happy with that but there's always room to get better," she said. The distance medley relay of Taylor Hansen, Aleigh Bean, Goergen and McCreedy placed second. The Trojans also had two runners place in the top three in the 400m dash, with Derby in first and Pross in third. The 4x200m relay team of Tayler Burg, Taylor Hanson, Bean and Miller placed second.
In the 100m hurdles, Lowary placed second and said, "This year I have set a new PR in the 100m hurdles (17:72). We're already been working on new things to make our shuttle hurdle faster too." Heidi Williams also competed in the 100m hurdles and placed third. Another third place finish came from Rush in the 800m run with Abby Altman not far behind in sixth. The Trojans had yet another individual event with two runners in the top three: the 200m dash ended with Rasmussen in first and Derby in third.
In the 400m hurdles, girls also went one and two with Williams placing first and Lowary placing second. "I'm running the 400m hurdles faster than I ended them last year," Lowary said. McCreedy finished first in the 1500m run with Botos close behind in third. The last two events of the night both placed second: the 4x100m relay team of Burg, Niklasen, Bean and Derby, as well as the 4x400m relay team of Pross, Rush, Goergen and Rasmussen.
On the JV side, the sprint medley came in sixth with a team consisting of Felicity Swanson, Katie Rothfusz, Tori Steinhoff and Kelsie Seidlik. The 4x200m relay of Kylie Neal, Swanson, Rothfusz and Steinhoff placed sixth. Steinhoff also placed sixth in the 400m hurdles. Rounding out the JV team score was the fourth-place finish from the 4x100m relay of Trotter, Bruckner, Joyce and Pellett.

About the Writers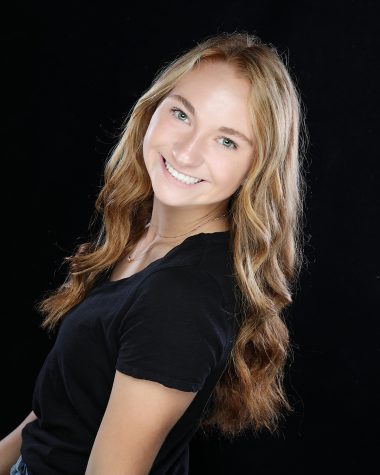 Kennedy Goergen, Staff Writer
You don't see Kennedy Goergen very often outside of the field, gym, or track. In her free time, she enjoys focusing on her sports, especially her favorite...
Mia Trotter, Staff Writer
It's Friday afternoon and all of the Atlantic student body is rushing to their laptops to open up this week's Eye of the Needle. They thrust the computers...