Freshmen in the Varsity XC Lineup
Ava Rush and Claire Wiederstein are two of the top seven runners on the Trojan cross country team.
Ava Rush and Claire Wiederstein are both on the varsity cross country team as freshmen. Rush is in the top five, meaning her score counts for the team score. While Wiederstein isn't a top five runner, she still competes at the varsity level, honing her skills for upcoming races.
Rush started to run cross country in seventh grade, while Wiederstein started to run in eighth grade. Running has been a hobby for both girls. Rush also plays softball, and runs track in the spring. Wiederstein also tears up the track in the spring months.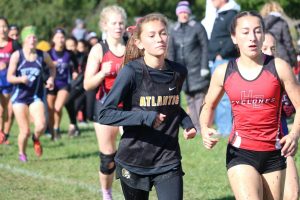 Cross country runners start to prepare at the beginning of summer for the upcoming season. "We have set amount of times that we have to run for each day during the summer," Rush said. During the season, runners are expected to lift at least twice before a meet. There is also lifting in the summer as well.
Running as part of the varsity team is an accomplishment in itself, but doing so as an underclassmen is something to be proud of. However, with reward comes responsibility. Taking on such a pivotal role as a freshman can add stress. "Yes, I would think that we would be underdogs, because we are just freshmen," Rush stated. However, they stated the team has welcomed them with open arms. "We have made a lot of friends," Rush explained. "They really welcomed us," Wiederstein said.
Both runners have credited Coach Vargason with helping them with their running skills. Rush also credits her sister, Karsyn, with helping her run. "My sister has helped me a lot," she explained.
Both girls are excited and thankful for the opportunity to run varsity as freshmen. They also explained things they have learned from cross country so far. "You have to be mentally tough," Wiederstein explained.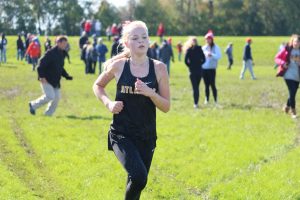 While many people would considering running for fun as a crazy idea, Rush sees positives in it. "You gain a second family," she said. Both runners said their favorite part about cross country is the meets and team meals. Cross country is both a team and individual sport. Along with their teammates, they make memories. Rush said her favorite memory was when "we all ran to West Side Diner to get ice cream." On the other side of things, Wiederstein commented that she liked walking the course with her team before the meets.
Both girls have the goal of going to state as a team and individually. They both want to go to state individually at least once before the end of their high school career.
"People should run cross country because it is good for your physical and mental health," Wiederstein said.