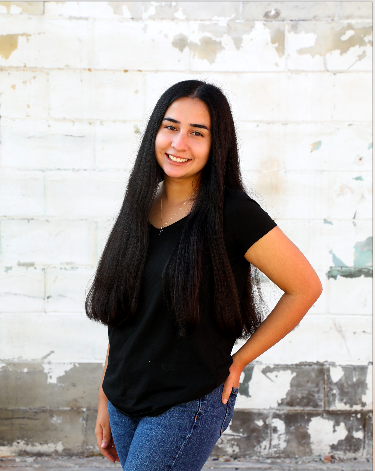 Senior Da'Jai Wesson is a lead editor for the AHSneedle.com and writes a wide variety of news stories. Wesson's road to being a journalist started when she took an English class with Allison Berryhill. "I liked her as a teacher and I liked writing, so I wanted to continue writing with her," said Wesson. 
To earn the Best of School Newspaper Online award is a major achievement, one that Wesson won. Wesson's favorite story that she wrote about was her profile on Steve Anderson. Wesson said, "I had to go out to the bus barn and ended up winning the Best of SNO award." 
Outside of writing stories for journalism, Wesson enjoys reading, choir and show choir, talking walks, and working on the play and musical. "I like helping and seeing what is going on behind the scenes," said Wesson. She is also a part of the National Honors Society and MVP mentoring program. 
Wesson said she has a lot of really strong women in her life, but the one she looks up to the most is her mom. If Wesson had to describe herself, she would say that she is nice and caring.
By Devlyne Sunderman
Da'Jai Wesson, AHS Needle Editor in Chief
Nov 05, 2020

An All-Star All-Stater

(Story)

Oct 28, 2020
Oct 28, 2020

Scholarship Tips

(Story/Media)

Oct 22, 2020

Supporting the BLM Movement

(Story/Media)

Oct 15, 2020

Atlantic Girls Swim Competes at Spencer

(Story)

Oct 08, 2020

How to Order a Yearbook

(Media)

Sep 28, 2020

Girls Volleyball Senior Night

(Story)

Sep 22, 2020

Girls Swim Dives into First Meet

(Story)

Sep 11, 2020

Girls Swim Preview 2020-21

(Story)

Sep 04, 2020

Registering to Vote

(Story)

Aug 27, 2020

Back to School Without Masks — OPINION

(Story/Media)

May 13, 2020

Celebrating Inside

(Story)

Apr 16, 2020

Cloth Face Masks Helping Stop the Spread

(Story)

Mar 12, 2020

Scholarship Opportunities for AHS Seniors

(Story/Media)

Feb 27, 2020

Ways that AHS Students Practice Self-Care

(Story/Media)

Feb 18, 2020

Spaghetti Supper Funds Upcoming Music Trip

(Story)

Feb 13, 2020

A Look For a Special Occassion

(Media)

Feb 11, 2020

The Life of a Bus Driver

(Story/Media)

Feb 06, 2020

Four Students Accepted into Hot Dish Magazine

(Story)

Jan 21, 2020

Student Youtubers at AHS

(Story/Media)

Jan 13, 2020

Swinging Into Show Choir

(Story)

Dec 19, 2019

Sitting Down with Hunt and McLean

(Media)

Dec 19, 2019

Five Atlantic Musicians Make SWIBA

(Story)

Dec 17, 2019

Sophomores Prepare for Future With Mock Interviews

(Story/Media)

Dec 10, 2019

Scooter's Coffee Officially Opened

(Story/Media)

Dec 02, 2019

How a Journalism Story is Written

(Story/Media)

Nov 20, 2019

Not Just the Winter Blues

(Story/Media)

Nov 12, 2019

Another Trip, Another Taco Night

(Story)

Nov 06, 2019

Helping Out in the Classroom

(Story/Media)

Oct 29, 2019

English as a Second Language

(Story)

Oct 22, 2019

Local Teenagers Rally for Warren

(Story)

Oct 16, 2019

Apple Versus Android: Users' Take

(Story/Media)

Oct 04, 2019

Dance Team Jumps into a New Season

(Story)

Sep 25, 2019

The Life of a Trojan Swimmer

(Story)

Sep 16, 2019

The Finances of Teen Drivers

(Story/Media)

Sep 11, 2019

The Tik Tokers Among Us

(Story/Media)

Jan 18, 2019

In the Midst of Practice for "Anything Goes"

(Story)

Oct 24, 2018

Students' Art Brightens the Hallways

(Story)