Top 10 Things to Do This Winter — OPINION
The winter season is all about the holiday season and winter weather activities.
December 16, 2020
In the midwest, the winter months bring low temperatures and inclement weather. But do you know what else winter brings? The opportunity to indulge in holiday cheer and winter weather activities. Here are the top ten activities you should consider trying this winter season to stay entertained and warm. 
10. Have a SnowBall Fight
If you're in the mood to brave the freezing weather conditions, having a snowball fight is a classic winter weather activity. Grab your family and friends and bundle up for a fun afternoon in the snow. By the end of the day, your nose might be runny and your socks might be soggy, but there is a guaranteed opportunity for good memories.
9. Go Sledding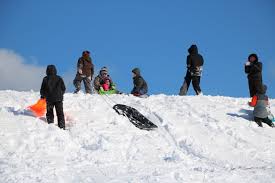 Village of Pleasant Prairie
If you're looking to find joy in another outdoor activity during the winter season, try going sledding. Find the perfect hill and grab some sleds and friends for the perfect winter afternoon. Although most of us enjoyed this when we were younger, there's no real age limit to the activity. 
8. Build a Snowman
Channel your inner child this winter and enjoy some time making a snowman. Some of my best winter memories are from crafting the perfect snow family with my sister in our yard. As long as there's enough snow on the ground, building a snowman is the perfect activity for anyone willing to invest some time and creativity outside. 
7. Light a Christmas Candle
There is absolutely nothing better than lighting a Christmas-themed scented candle to get into the holiday spirit, and I stand by that. Winter Berry? Spiced gingerbread? I don't think there was ever a bad holiday scented candle made. Light your favorite one and cozy up with a fuzzy blanket for the perfect night this winter season. 
6. Go Christmas Light Watching
Christmas light watching is almost mandatory at this time of the year. Even if it's just a drive around the neighborhood, seeing the different kinds of lights unique to each house is always a pleasant and warm way to spend a winter evening. If you're feeling up to it, take a trip downtown to see the lights lining up and down the street on the trees at night. It could also be the perfect time for a photoshoot if you're into that. 
5. Put Your Tree Up
This far into the season, most families who celebrate Christmas have already set up and decorated their Christmas trees. But if your family is late to the party like mine, set up your tree ASAP. There's not a better feeling than turning up to some Michael Bublé while adorning the branches of a tree with lights, garland, and ornaments. Putting up the Christmas trees an activity best shared with your close family members.
4. Make A GingerBread House
Making gingerbread houses is possibly one of the most popular holiday activities. Whether you're having a competition or decorating the gingerbread houses as a team, getting together with your family during this activity is truly for memory-making. Make sure to fit this into your schedule this holiday season. 
3. Drink Hot chocolate
As a hot chocolate enthusiast, I can confirm that a good cup of hot cocoa is essential during the winter months. As soon as the temperature drops and the first snow falls, you can find me curled up at home with a mug of hot chocolate. I don't know if there's another beverage that can bring me such comfort and warmth. To add some holiday flare, turn on Christmas music or light a candle. 
2. Bake Cookies
Baking cookies is one of my absolute favorite activities to indulge during this time of year. My personal favorites to bake are gingerbread, sugar, and chocolate chip. Comfort can be found in both the baking process and the final product. Especially if you're spending time with friends and family, you don't want to skip this activity in the kitchen this winter.
1. Have a Christmas Movie Marathon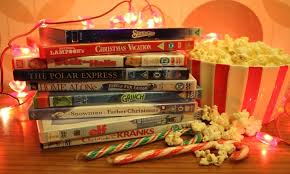 University Visitors Network
Three words: Christmas movie marathon. Sounds like music to my ears. Some of my fondest memories are settling down on the couch with my family watching all of the classics. This is especially rewarding when it's finally Christmas break, and after a long semester, you can enjoy a Christmas movie without a care in the world. Some of my favorites include A Christmas Story, Home Alone, the Santa Clause trilogy, and National Lampoon's Christmas Vacation.