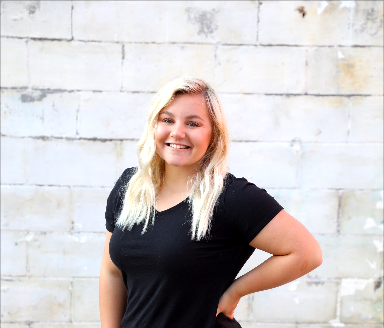 Kenzie Hoffman, a junior at Atlantic High School, is an editor for AHSneedle.com and senior magazine. As an editor she writes stories for the paper, edits papers for other students at her high school, and interviews people for the school newspaper. Hoffman has been involved in track, wrestling, softball, journalism, dance, and being a teacher's aid.  
Hoffman's favorite story she wrote is Hair Styles Across the Decades.  "I really liked it because I got to look through all the old yearbooks and express myself through my writing,"  Hoffman said.
Hoffman said her family has impacted her life for the better and helped her become the person she is today. Her role model is her legal guardian, Jeremy, because "he showed me you are stronger than your battles and if you want to be the person you want to become, you have to put in the work."
In her free time, Hoffman enjoys reading the most because "I can dive into the book and forget about my surroundings." She also enjoys writing, because she has the freedom to express herself. Hoffman loves to listen to music and her favorite genres are classic rock when she's in the mood to jam out and country when she wants a heart throb. 
Someone that makes Hoffman's mood go from a one to a ten is her friend Kobe.  "He is one of the sweetest and most kind people I know," Hoffman said.  "Not to mention he's hilarious."  She hopes to graduate from college with a minor degree in psychology and a teaching degree to become a guidance counselor. "I know I'm destined for greatness, and it all starts with the decisions I make everyday."
Story by Laney Brosam
Kenzie Hoffman, AHS Needle Editor
Nov 18, 2020

Olympic Lifter and Overcomer

(Story)

Nov 06, 2020

Mental Health Matters

(Story/Media)

Oct 28, 2020

Football Win Qualifies Trojans for State

(Story)

Oct 27, 2020

Introduction to Press Conferencing at AHS

(Media)

Oct 23, 2020

Numerous Nifty Nails at AHS

(Story/Media)

Oct 22, 2020

ACSD Votes on Mask Mandate

(Media)

Oct 14, 2020

Trojans Trample the Tigers

(Story/Media)

Oct 06, 2020

Trojans Secure District Title

(Story)

Sep 22, 2020

Trojans Keep the Winning Streak Against Clarinda

(Story/Media)

Sep 16, 2020

Facing Life Changes

(Story)

Sep 02, 2020

Saying No to False Eyelashes — OPINION

(Story)

Sep 01, 2020

Masks and Mindfulness at the Trojan Bowl

(Story)

Aug 31, 2020

Trojan Football Kicks Off the Season

(Story)

Apr 21, 2020

Chalk on the Block

(Story)

Mar 13, 2020

Makeup Makeover

(Story/Media)

Feb 05, 2020

Wake Up and Makeup

(Story)

Jan 22, 2020

Interest in Girls Wrestling Grows Across Iowa

(Story)

Jan 13, 2020

Petersen Takes On the Psyche

(Story)

Nov 12, 2019

Hairstyles Across the Decades

(Story)

Oct 29, 2019

English as a Second Language

(Media)

Oct 03, 2019

ACSD Hosts Annual Picture Day

(Story)