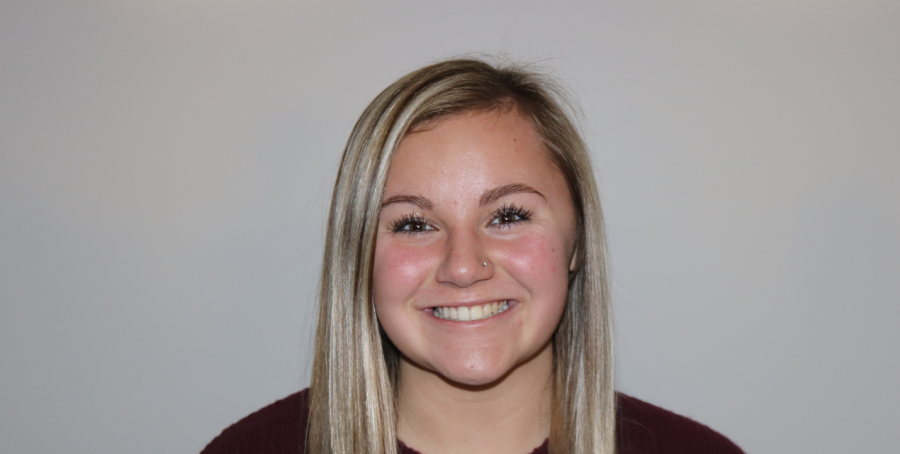 Sophomore Kenzie Hoffman has been involved in track, softball, girls wrestling, and journalism throughout high school. Hoffman is a staff writer for AHS Needle. In her free time, she enjoys lifting, spending time with friends, and listening to music. She loves jamming out to her JBL speaker. "I use it constantly, and it drives my family crazy," Hoffman said.  
Her favorite sport is wrestling. Even though this is her first year participating, she grew up in a wrestling family. Although, Hoffman never thought she'd actually wrestle. "I love the sport, it pushes me to my limits," Hoffman said. Outside of sports, Hoffman has a strong passion for lifting.  
Hoffman's biggest accomplishment is her tattoo. It is on her inner left arm and says, "keep going." She got the tattoo done on her birthday. Hoffman said, "There were hard times in my life where I didn't think I could keep going, but I did. And that means everything to me."  
Hoffman's future plans are to become a guidance counselor and attend Iowa State University. She wants to help guide children in the right direction.
Story by Addi Schmitt
Kenzie Hoffman, Staff Writer
Sep 16, 2020

Facing Life Changes

(Story)

Sep 02, 2020

Saying No to False Eyelashes — OPINION

(Story)

Sep 01, 2020

Masks and Mindfulness at the Trojan Bowl

(Story)

Aug 31, 2020

Trojan Football Kicks Off the Season

(Story)

Apr 21, 2020

Chalk on the Block

(Story)

Mar 13, 2020

Makeup Makeover

(Story/Media)

Feb 05, 2020

Wake Up and Makeup

(Story)

Jan 22, 2020

Interest in Girls Wrestling Grows Across Iowa

(Story)

Jan 13, 2020

Petersen Takes On the Psyche

(Story)

Nov 12, 2019

Hairstyles Across the Decades

(Story)

Oct 29, 2019

English as a Second Language

(Media)

Oct 03, 2019

ACSD Hosts Annual Picture Day

(Story)