English as a Second Language
Meet freshman Melissa Soza-Manzanero, who moved to Atlantic three months ago from Guatemala.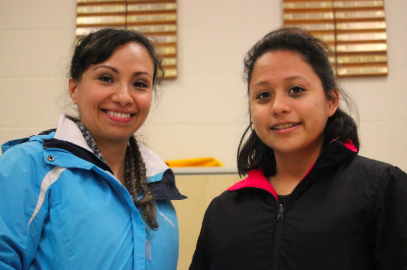 Melissa Soza-Manzanero is just like every other student at AHS. In school, she participates in activities such as choir and cheerleading, and in her free time, she listens to music. However, she just moved to the United States three months ago. This also happens to be how long she's been learning and speaking English. 
Manzanero is a 14-year-old student, originally from Guatemala. Along with her two sisters and her parents, she moved to the United States three months ago due to issues within her home country. Manzanero said that adjusting to living in the United States, Iowa specifically, has been difficult because of the many differences from Guatemala. "Guatemala has a lot more tourist attractions," Manzanero said. More obstacles she's encountered include the culture difference, as well as the language barrier. 
Since Manzanero only started learning English three months ago, it hasn't been easy. No one in her family besides one of her cousins knew English before they came to the United States. Not being able to communicate effectively in English has made what most Americans consider "simple" situations much more difficult. 
Although her situation can prove to be tough, most of the school day Manzanero is assisted by Delmy Lam. Manzanero and Lam have become very familiar with each other, as they spend almost the entire school day together. Lam can sympathize with Manzanero because once she found herself in the same situation. 
After coming to the United States, Lam knew very little to no English, and she learned throughout high school in Nebraska. After high school, she moved and attended college in Utah. During her time there, she improved her English-speaking skills and got a job. Lam eventually found herself back in the Midwest and began her job as an aide at AHS. She said she enjoys working with Manzanero and other kids because she has the opportunity to re-learn high school subjects. "I didn't know much English in high school, so it was harder to learn," Lam said. She enjoys the fact that she's able to help them understand what they're being taught. 
While Manzanero has only been learning and speaking English for three months, everyone a part of her journey has noticed the progress she's made. "I can tell that she understands more than before now," Lam said. This also includes Manzanero being able to respond to people better now, but "she's afraid to say something wrong." Nonetheless, "She's getting there," Lam said. Manzanero plans to continue studying and learning English both independently and with the help of Lam.