Lifting up My Mental Health – OPINION
Pumping iron promotes wellbeing.
I take a breath from my inhaler. My hands start to shake as my adrenaline kicks in. I'm ready for my workout. I plug in my headphones and the vibration of "Stereo Hearts" by Gym Class Heroes pounds in my chest. It's been a long day, and I'm physically and mentally exhausted. I need this workout.  
I was first introduced to weightlifting through my older brother Carter. I would tag along with him to the YMCA in hopes of someday being as strong as he was. When Carter did back squats with 45s, I imitated him with 25s. While Carter perfected crunches and planks, I worked alongside him, exhausted but accomplished. He corrected my form, pushed me to go harder, he hyped me up when I reached a goal.
When Carter moved to Minnesota, I was on my own. I started watching YouTube videos for workout ideas. I followed Whitney Simmons. I liked her story and her commitment to strength training over physique. She focuses a lot on lower-body workouts–and I love leg days. I took what I learned from Youtube back to the gym, where I got to work, five days a week.
"
Something about the intensity and determination I feel when lifting brings me back for more."
— Kenzie Hoffman
 My increased physical strength gave me the stamina to address my mental health.
My mental health has always been a rollercoaster of emotions. Some days are great, and others are a struggle. For many, staying active does the trick. I've tried running, swimming, and biking, but I couldn't stick with any of those. Weightlifting came naturally to me, and it felt right. Something about the intensity and determination I feel when lifting brings me back for more.
Pumping the iron is more than just a workout for me. It's therapeutic. It keeps my mood consistent and stabilizes my mental health. There isn't a simple fix for a mental illness. But going to the gym strengthens my mind as well as my body. I feel in control of both my muscles and my emotions.
I prepare the squat rack by adding 45s to the bar and adjusting the height level.  I take a big breath, put my neck underneath the bar, and step back.  I'm ready to roll.
Leave a Comment
About the Writer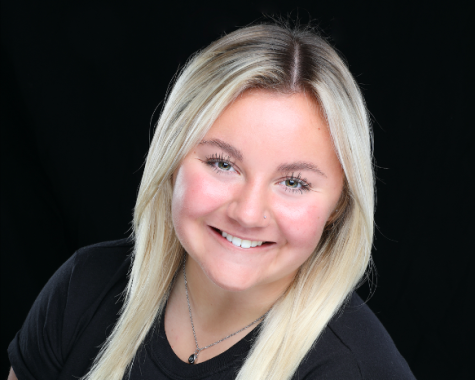 Kenzie Hoffman, AHS Needle Editor, Yearbook
 "Funny, outgoing, and driven" are just a few words to describe senior Kenzie Hoffman. She is known as a hopeful and talkative spirit, who loves creating...