Mental Health Matters
Many high schoolers deal with at least one or more forms of mental health issues.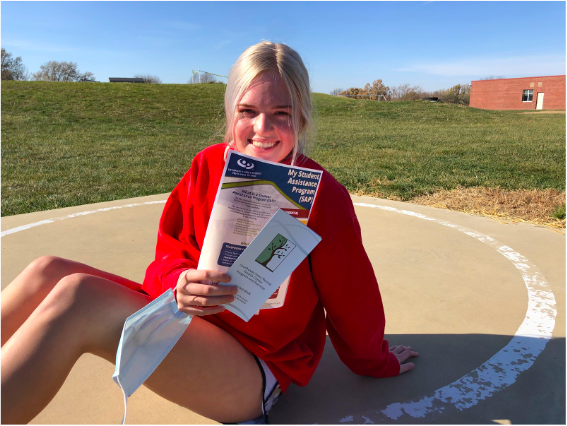 Mental health. A fragment that either slips through the minds of an individual or implants itself into their psyche. According to Teen Mental Health Statistics [Updated 2018], every one in five teenagers suffers from at least one mental illness. Guidance counselor Sarah Rose has some thoughts on improving the mental health of students at Atlantic High School.
"In the past, we've had another guidance counselor come in and work with certain individuals," Rose said. Rose applied for a grant for SAP, otherwise known as Student Assistance Program where students and their families are granted access to a phone number where they can set up six sessions a year for family counseling cost-free. If the online therapist suggests more counseling, they will help find a provider in the area.  
"I see high anxiety and depression the most in high school students," Rose said. "Some students feel extremely overwhelmed, while others don't know how to get happy." Rose helps students with their mental health by practicing coping skills and grounding techniques. This may include the five senses method, as well as fidget toys and connecting one's thoughts with their body.  "Our minds are more connected with our bodies than we think," Rose said.
"
Some students feel extremely overwhelmed, while others don't know how to get happy."
— Sarah Rose
Moving forward, Rose would like to start an awareness group where students who struggle with making friends, not having places to go, or people to talk to can support each other. "The group would be established to be able to reach out to kids that could use some love, support, and care," Rose said. "It would be an amazing group that a lot of kids could benefit from." 
Senior Chloe Gardner has a strong opinion on the importance of mental health. "To me, mental health is how you are doing mentally, and if you are able to mentally handle life's choices thrown at you," Gardner said. "There are always bumps in the road that try and distract me from the big picture at large." Gardner's advice to anyone struggling with their mental health is to "take a break," and enjoy life for what it is. "Taking your life is never an option, you are so strong and so loved," Gardner said.  
Sophomore Claire Wiederstein believes that mental health, "affects how you feel, act, and think." Wiederstein knows that trauma/abuse, genetics, and the environment you're surrounded by can affect your mental health. "I have struggled with my mental health since I was in middle school," Wiederstein said. "I was diagnosed with depression this year, and now I understand why I had been feeling so down." 
"
Find things that make you happy, and focus your energy on that."
— Claire Wiederstein
She lost interest in things she loved to do, her sleep schedule was off, and always had a "very low mood."Advice Wiederstein would give to others struggling with their mental health is to get help, and find coping strategies that help boost your mood. Find things that make you happy, and focus your energy on that."