ACSD Hosts Annual Picture Day
School Picture Day was held Sept. 30 at the Atlantic High School, Atlantic Middle School, Schuler Elementary, and Washington Elementary. School picture day packets were handed out a week prior, but could also be found at all of the school's offices, or from teachers.  
Lifetouch is the company ACSD hires to take pictures. Their headquarters are in Eden Prairie, Minn. Photographer Bill Ward from Lifetouch photographed Atlantic students. He said, "I like my job because you get to meet people, provide a service, and the outcome makes people happy." Ward has been with Lifetouch for a year now. Ward and his coworkers have traveled to 20 schools in Iowa already, but on average travel to 40 in a year.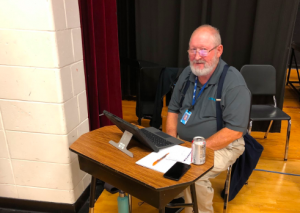 Ward said traveling to schools can be a challenge, "I leave my home at 3:30 a.m." According to Ward, the school sets the schedule for when students and faculty will have their picture taken. According to their website, Lifetouch takes preschool, K-12, senior, sports, graduation, special events, church, business headshots, and JCPenney Portraits.
Sophomore Addison DeArment said, "I like school pictures because we get to look nice which boosts my self confidence, and I have pictures to give relatives." Sophomore Garrett Mclaren said he likes school pictures because he gets to miss class.
If a student missed picture day or wasn't happy with the outcome, there will be retakes held Nov. 6. Otherwise, the next picture day won't be until next year.