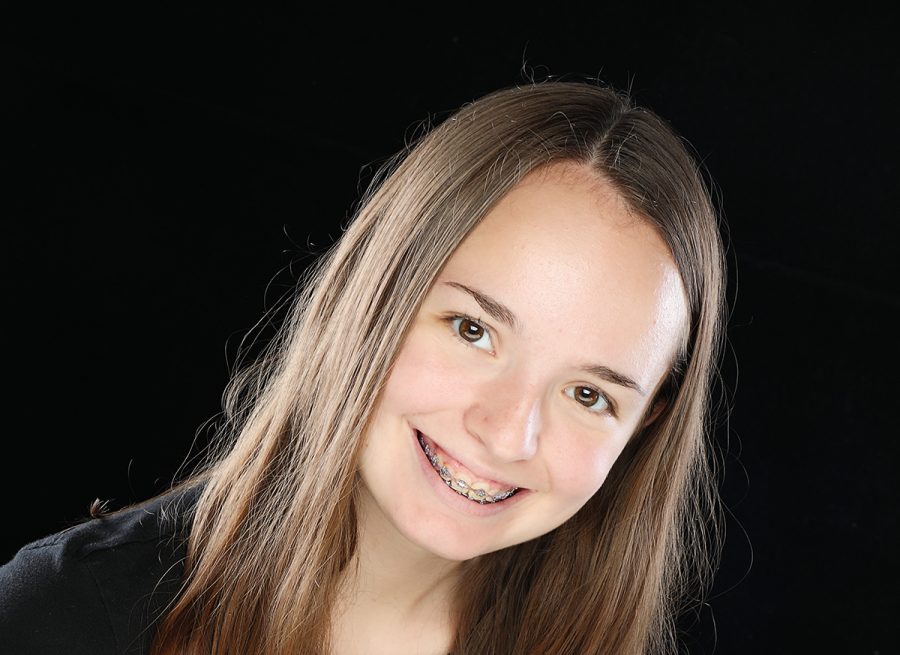 Kylie Neal is a senior at Atlantic High School and has partaken in several activities throughout her high school career. She has been involved in journalism, track, National Honor Society, mentoring, student council, AHS Fuel, wrestling manager and also cross country manager. 
Neal is also very artistic and makes sure to put her special touch on whatever she is working on. Her role in journalism is creating videos, writing stories as well as working on the yearbook. "I like having the freedom to do what I want and how it's student-driven," she said. Neal's favorite thing to do in journalism is taking photos because she feels she has a good "artistic eye for it."
In her free time, she enjoys eating or just hanging out with friends and family. Another trick up her sleeve is that she knows how to juggle which she learned her sophomore year while in journalism advisor Allison Berryhill. 
Her dream job would be to become a teacher, which she plans to achieve after high school. "I enjoy working with children and it makes me feel good when I can make a difference," she said. She plans to attend Iowa State University next fall to major in elementary education. She chose ISU because of its location, great program and she also felt familiar with the campus.
Story by Dani Mathisen
Kylie Neal , Yearbook Editor
Feb 26, 2020

Trojans Attend State Wrestling Tournament

(Story)

Feb 11, 2020

Wrestlers Prepare for Districts

(Story)

Jan 27, 2020

Runner-Up Finish for Trojan Wrestling

(Story)

Jan 10, 2020

Watchful Week of Wrestling

(Story)

Jan 07, 2020

Winter Break Recap: Atlantic-CAM Wrestling

(Story)

Dec 20, 2019

Trojans Take Down Knights and Titans

(Story/Media)

Dec 17, 2019

Trojans Take on Council Bluffs Classic

(Story)

Dec 13, 2019

Trojan Wrestlers Sweep Again at Red Oak

(Story)

Dec 09, 2019

Kicking Off Wrestling with a Win

(Story)

Sep 16, 2019

Tips to Ace the ACT

(Story)

Mar 11, 2019
Dec 10, 2018

Students Tackle the ACT

(Story)

Nov 05, 2018

NEWS BRIEF — Seniors to Vote in 2018 Election

(Story)

Oct 02, 2018

Academic Opportunities in Full Swing

(Story)

May 07, 2018

Getting to Know the Class of 2018: Joshua McLean

(Story)

Apr 26, 2018

Getting to Know the Class of 2018: Madeline Nelson

(Story)

Apr 13, 2018

AHS Journalism Travels to Ames

(Story)

Mar 28, 2018

NEWS BRIEF – Food Drive to Combat Local Hunger

(Story)

Jan 31, 2018

Sheltered Reality Drumline Performs at AHS

(Story)

Dec 15, 2017

There's Double Trouble in AHS

(Story)

Nov 20, 2017

Students Question Their Readiness for Life

(Story)