Wrestling and Weights Coach Welcomed at AHS
The newest member of the Atlantic-CAM wrestling program is Connor Larson.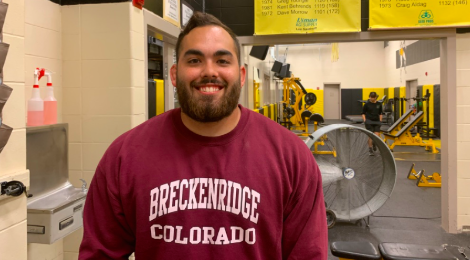 Connor Larson is the new weights teacher, eighth grade football coach, and high school wrestling coach for both the girls and boys. Larson went to Webster High School and later attended college at Grand View University. 
Larson came to Atlantic when Coach Tim Duff told him he would like to have him help with the wrestling team. Larson later applied for the weights position and was accepted.  
He said he enjoys Atlantic because of the new relationships he's formed. Larson said, "Relationships with the students are very important to me."  
Larson wanted to become a coach because his dad was a wrestling coach, and worked well with the kids. He also helped coach the students in high school and his senior year in college. Larson has been helping with open mats on Wednesdays at 6 p.m. for both the girls and boys, and on Sundays at 5 p.m. for just the girls.  Larson said, "I see a lot of potential in these kids." He also went on to say that he is "ready for the season to start and get in the swing of things."
Wrestler Mia Trotter said, "I think he's a really great person. He knows when he can be fun, and he knows when to crack down. He's really funny."
Cael Pulido has weights class with Larson and later mentioned, "He is not as nitpicky as (the previous weights teacher)."  
Larson said "I am happy that there is a girls' team this year because it makes way for more opportunities and allows girls into the family." Larson is very happy that he is part of the wrestling family coaching staff.
Larson reminds his students and athletes "Sometimes your biggest battle is from within."