NEWS BRIEF — Conference Yields Award for AHS Journalism
Judges name Atlantic's journalism department as the best in Class A.
Hang on for a minute...we're trying to find some more stories you might like.
A new banner is flying at AHS. The AHS Needle journalism students brought home the 2018 All-Iowa News Team of the Year banner on Thursday, Oct. 25. The award was presented at Iowa's annual student journalism conference at the University of Iowa.
The Iowa High School Press Association awards the banner to the top journalism programs in the state. One school in each of three class sizes is selected and two additional banners are awarded for a total of five winning schools statewide.
The process starts in the spring of the previous school year, where schools can enter their journalism programs to be judged. After a few months' waiting, the finalists are announced. The finalists' news writing, photos, videos and social media are then critiqued by judges to determine the five banner recipients. Besides Atlantic–Mt. Vernon, Hudson, West Delaware, and Chariton were all in the running for the Class A prize.
The AHS Needle website, the Eye of the Needle broadcast, and social media profiles all contributed to winning the Class A News Team of the Year.
Lead Editor Erin Wendt said "I was excited," on finding out about the department's victory. She thinks the refreshed layout of the news website, with a dominant photo in the showcase, helped snag the win for the Trojans.
Lead Editor Ashley Wendt commended the AHS Needle news team. "Everyone works on their stories really well. They all care about the quality of their stories."
This is the first time Atlantic has taken home a banner in return for their hard work.

About the Writer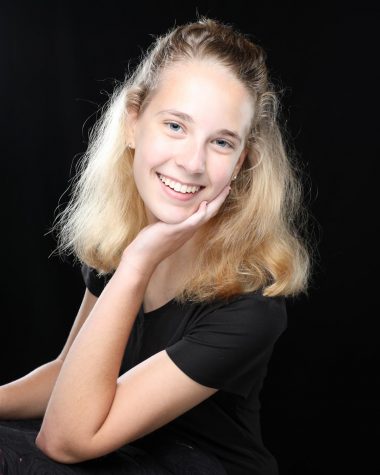 Hana Holtz, Editor
Hana Holtz is a member of the AHSneedle team, where she works with other journalists to keep the news website updated. "We work very hard," she said. According to Holtz, she didn't want to do journalism at first but journalism advisor Alison Berryhill convinced her to do it. Holtz said, "I liked it both semesters and decided to just keep doing it." She writes stories about school activities and events and her favorite part about the class is the people in it. The yearbook story she wrote with classmate Aly Brockob was her favorite story she has published to date. In her free time, Holtz likes to play tennis, watch TV and Netflix–the "usual stuff." She also likes to cheer on the Chicago Cubs, her favorite professional sports team.
Story by Colin Mullenix and Payton Fewson