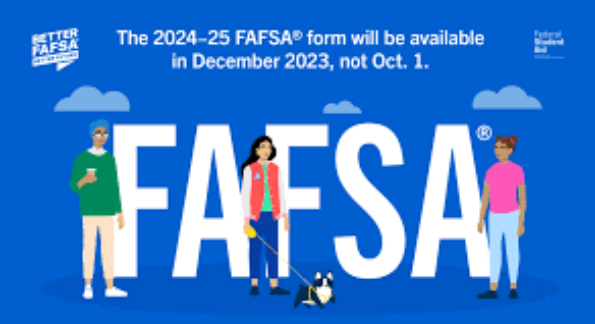 Have you ever heard of Free Application for Federal Student Aid? Do you know what it is, or why it is important? Do you know that applications open on December 1, 2023? What about changes made to the application process this year? If you answered "no" to at least one of these questions, chances are your peers did as well. 
Free Application for Federal Student Aid (FAFSA) according to their website, studentaid.gov, 2023, is "responsible for managing the student financial assistance programs authorized under Title IV of the Higher Education Act of 1965." These programs provide students attending college or a career school grant, work-study, and loan funds. So, in simple terms, FAFSA provides financial help towards schooling expenses for those who qualify, making college less of a monetary burden. Finally, by graduation time, you need to prepare to pay your loans back. A six-month grace period is offered, and it's recommended you use this time to become organized on how these payments will be covered. However, if you start to fall behind, a financial aid servicer is available to help you become organized. 
This year, however, more chatter has been arising about the program amongst college students, or soon-to-be college students. The application process has some recent changes, the first being the form. In the past, the form to apply has been lengthy, causing headaches. Now, the process will be much shorter and will rely almost entirely on parents' tax returns from the previous two years. Next, changes in terminology are happening, previously the EFC (Expected Family Contribution) is now changed to SAI (Student Aid Index) to communicate that this isn't the exact number families are expected to contribute. 
So, whether you are a senior applying for FAFSA or a junior, sophomore, or freshman learning about it for the first time, knowing what FAFSA does is essential, and absolutely necessary for the next stages of your adult life.