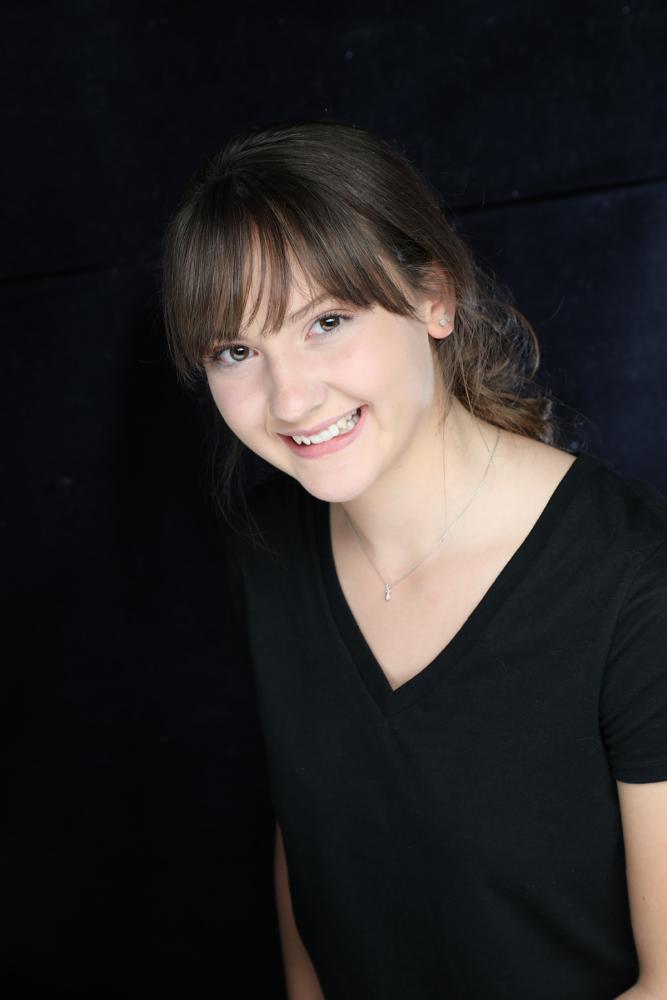 Chloé Newbury is the social media manager and chief on the AHS Journalism team. When asked what project she was most proud of during her career she said that starting up the senior magazine was "pretty fun." We asked what her favorite part of journalism was she says, "Getting to talk to a wide range of students and getting to know them and their aspects on everything."
She's been involved in Student Council during high school. Newbury says very few people know about her interest in cars. The person that knows her best, Emily Saeugling, would describe her as "shy at first, then loud and annoying" even though she would describe herself as caring and understanding.
One thing Newbury would never consider to give away would be a necklace that represents her grandpa. "He had this saying above his bed and he liked eagles and it has an eagle and that saying and it just represented him," she says. When she has a day off and wants a relaxing evening she would "get a big blanket for all my dogs to fit on then sit in the shade and read a book".
Out of all the people she knows, Newbury chooses to look up to her brother "because he's been through a lot and he's shown me you can get through anything." We asked Newbury if she had to eat one food for a year, what it would be and without even a second of thought, she says, "Chicken!" If she could have one talent without effort she would choose to be smart.
Profile written by: Callie Richter and Grace Van Aernam
Chloe Newbury , Social Media Manager/Editor
May 15, 2018

Getting to Know the Class of 2018: Dasha Mahan

(Story)

May 15, 2018

Getting to Know the Class of 2018: Jacklyn Sams

(Story)

May 15, 2018

Getting to Know the Class of 2018: Haley Lockard

(Story)

May 07, 2018

Getting to Know the Class of 2018: Mariah Cook

(Story)

May 23, 2017

Getting to Know the Class of 2017: Maryam Ruiz

(Story)

May 23, 2017

Getting to Know the Class of 2017: Tyler Petty

(Story)

May 23, 2017

Getting to Know the Class of 2017: Alan Pappal

(Story)

May 19, 2017

Getting to Know the Class of 2017: Taylor Kirchner

(Story)

May 16, 2017

Getting to Know the Class of 2017: Lucas Foster

(Story)

May 15, 2017

Getting to Know the Class of 2017: Samuel Barkley

(Story)

Apr 27, 2017

Getting to Know the Class of 2017: Alexis Boes

(Story)

Jan 24, 2017
Nov 10, 2016

First Alice Drill Deemed a Success

(Story)

Oct 18, 2016

Meet Mr. Henderson

(Story)

Oct 04, 2016

Health Fair Comes to AHS

(Story)

Sep 23, 2016

AHS Journalism Ups Its Social Media Presence

(Story)

Sep 07, 2016

Juniors vs. Freshmen

(Story)

Sep 07, 2016

On Your Mark, Get Set, Go!

(Story)

Apr 29, 2016

Girls Soccer Achieve First Win of the Season

(Story)

Apr 20, 2016

Trojans Turn Loss into Learning Opportunities

(Story)

Mar 10, 2016

Budget Cut or Not? – OPINION –

(Story)

Mar 08, 2016

TWIRP Dance Cancelled

(Story)

Mar 04, 2016

Girls Soccer Starts Season with High Hopes and High Numbers

(Story)

Feb 18, 2016

Fire Alarm Fiasco Causes Students to Go Out in the Cold

(Story)

Jan 15, 2016

#Trojanpride? Bare Gym Walls Say Otherwise

(Story)

Dec 23, 2015

1 Question 25 Answers

(Story)

Dec 10, 2015

The First Boys' Basketball Game of the 2015-2016 Season: Video Story

(Story/Media)

Sep 30, 2015

A Day in the Life of Our Principal

(Story)