Legacies of Atlantic: Ed Podolak
The illustrious professional football player started his sports career in Atlantic, Iowa.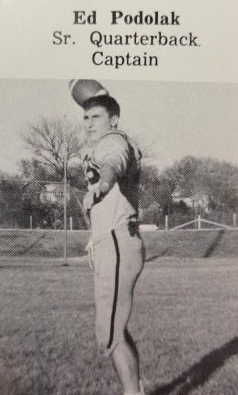 You may have driven through Ed Podolak Drive, the small section of East 11th Street in front of the Atlantic Middle School, but do you know who Ed Podolak is? Edward Joseph Podolak is a former Kansas City Chiefs football player. He was born in Atlantic, Iowa, and graduated from Atlantic High School in 1965. According to "KJAN," after Podolak graduated high school, he went on to attend the University of Iowa, which is where he was a multiple-position player.
Podolak's household growing up consisted of his mom, dad, little sister, little brother, and him. He loved all sports growing up. "I grew up on a farm south of Atlantic, and when we got a TV set when I was in about fifth grade, I got to see all the fun people were having with sports," Podolak said. His parents were very supportive of his passion for sports, so supportive that they sometimes let him get away with not doing chores on the farm. "They let me play basketball, baseball, football, track," Podolak said, "and football just ended up being the one I was best at." 
His mom, Dorothy Podolak, was a country school teacher that taught grades from kindergarten through eighth grade, and his dad, Joseph Podolak, was a farmer and military veteran. According to Podolak, he originally wanted to name his street after his mother because of her great contribution to the Atlantic community. "I tried to get them to name the street after my mother because Dorothy Podolak taught school for over 40 years in the town of Atlantic, or near it," Podolak said. Instead, he had them agree to name a scholarship after her. Podolak said that the scholarship is "for students that graduated from Atlantic High School who wanted to go into teaching, and went to an Iowa college."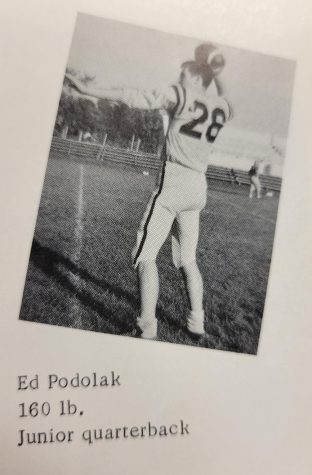 The Dorothy Podolak Memorial Scholarship is a 500-dollar scholarship that has been awarded for the past ten years. According to the scholarship's description, "The funds are held at the Atlantic Community School District Foundation and the recipient is chosen by a committee made up of high school teachers and a foundation member."
Now retired from football, Podolak has two daughters and does broadcasting. "He currently serves as the Color Commentator for Iowa Hawkeyes Football broadcasts alongside Gary Dolphin" (KJAN). "We're getting ready for my 42nd year of broadcasting Iowa football, and his [Dolphin's] 27th," Podolak said. Podolak enjoys every weekend in the fall because he gets to travel with the team and  "be around these young guys who are excelling in both school and sports." 
Although Podolak's career in football is over, he is proud of his accomplishments. He looks back fondly on the "experiences I've had from high school, college, pros, and now in announcing." According to Wikipedia, the Trojan football teams went undefeated in Podolak's junior and senior seasons. During these two seasons, he quarterbacked the team and won conference titles both years. "I've had a lot of great years of my life, but my junior and senior years of high school were pretty darn good," Podolak said.
According to "The Missouri Sports Hall of Fame," Podolak is a member of the Iowa Sports Hall of Fame and the Kansas City Chiefs Hall of Fame. He believes that sports are a great way to meet new people, compete against them, and become friends with them in the long run.
*This story has been updated for clarity on 05/09/23