Mask Up, Madrigal
The Madrigal dinner from the AHS choir is still expected to take place this year with updated COVID-19 guidelines.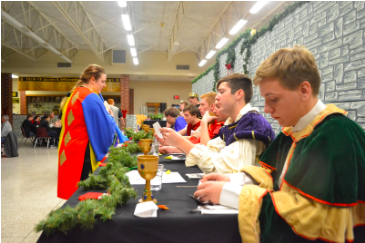 The madrigal dinner, hosted by choir director Ethan Pruisman, will take place December 12 and 13, 2020. The dinner is in place with a traditional holiday concert. "It allows a different type of music-making that doesn't typically happen in highschools," Pruisman said. The performance is used to celebrate the holidays as it would've when they were first established. Students dress up in costumes and sing Christmas carols as though they are in a kingdom setting. Madrigal is a "fun time for people to get together."
Due to the pandemic, a few changes will be made this year to accommodate the rules. The choir will be following the rules put in place for all sports events. Students will be given two vouchers to give to family or friends. Instead of being hosted in the commons, it will be hosted in the gym and all of the servers will be masked and wearing gloves. 
Although it is a different field from years before, Pruisman encourages anyone who can get a voucher to come and enjoy the madrigal dinner. Pruisman said, "The students have been working hard," to learn their music for the performance. Typically, students will give vouchers to their parents or other family members, but he believes some students will still have a chance to come.