Attacking the Track
Freshman Jazzy Dagel prepares to make her high school debut on the track.
Atlantic High School is filled with extraordinary students, including freshman Jazzy Dagel. Known for her passion for the sport of track and field, Dagel has been running and training for four years, both on her own and with the school program. Currently, Dagel is preparing for her freshman season with the Atlantic track team. However, she also runs as a part of the USA track and field team on her own time. In meets, she typically competes in the sprinting events. Dagel can't recall what got her into running, but she said her first time competing at Nationals gave her a "boost of confidence" and was her drive to continue on her journey. 
Dagel is dedicated to her athletic career. She trains year round. During the summer, she worked out two times a day. Throughout the early, summer mornings, Dagel ran as much as she could, and continued her day with light weightlifting at home. Dagel said she "slacks off a bit" during the winter. She only runs and lifts a little during the winter months. At the first event of the season–an indoor meet due to the blustery weather–she scoped out the competition for the year. Her favorite workout is when she runs "based on the lane number." For example, when she runs in lane one, she sprints for 100 meters. As the lane number increases, so does the length of the run. 
 The only person in Dagel's family that truly shares her passion for running is her father. Like Dagel, he used to be a sprinter, but now focuses on staying in shape by running a few miles. Besides her father, Dagel looks up to Tamari Davis, who competed at one of Dagel's National meets and tried out for the Olympic team when she was just 16 years old.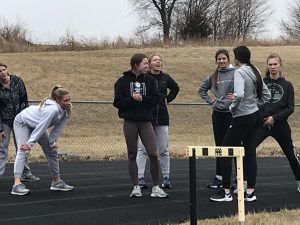 Dagel said, "I think the best part is at the meets when you see that you got a personal record. You can just see that all of your hard work has paid off." Her favorite meet was Nationals in the summer of 2019 because she "got to see all my friends from different parts of the United States." She said, "It was fun because we were there for a week. Because my races were so spread out, we got to see all these places and go do things."
Dagel would like beginning runners to know that "You have to push through some of the pain so that it will just get easier as time goes on." Her biggest goal is to have times that will get her on the podium at Nationals.