Double-Header vs AHSTW Called Short Due to Weather
Lightning strikes caused the girls' soccer game against the opposing AHSTW Lady Vikings to be postponed to a later date. The boys were able to complete their game, which was played first.
Hang on for a minute...we're trying to find some more stories you might like.
With iffy weather in the forecast, the boys' soccer team kicked off the AHSTW double-header at 4:30 p.m. yesterday, May 1. The game ended in a loss of 2-1, with senior Brady Dickerson scoring Atlantic's only goal in the first half. AHSTW had no goals until the second half.
Senior Night followed the boys' game, recognizing members of soccer, tennis and golf and their parents. The girls' game started quickly after in an attempt to beat the weather. However, the game was not played long before lightning struck and a 30-minute delay was called. More lightning occurred after, causing the game to be postponed to a later date. The game will start how it ended, with the score at 2-0 and 17 minutes left in the first half.
The Lady Vikings scored their first goal of the game in minute 31 and shortly after they were given a Penalty Kick (PK) for a foul in the goalie box. Number 11, Jordyn Holtz, took the shot and slipped it past the Trojan's goalie, sophomore Corri Pelzer.

About the Writers
Ashley Wendt, Editor
Ashley Wendt serves as an editor of AHSneedle.com this semester. She brings a passion for stories, an eye for detail, and a drive for improvement to her role. In addition to editing, Wendt frequently writes content for the site.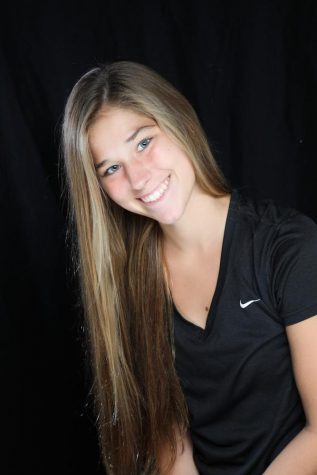 Erin Wendt, Business Manager/Editor
Junior Erin Wendt is one of the two business managers for the AHS journalism department. She also occasionally writes stories for AHSneedle, and her favorite stories are the "Getting to Know the Class of 2017" articles. Wendt said she loves the "independence" of journalism and being able to choose what you do, like broadcasting or...