Over View: Boys' Soccer vs. Denison with Kyle Redinbaugh
Kyle Redinbaugh reflects on the 5/11 Denison game and his role as goal keeper.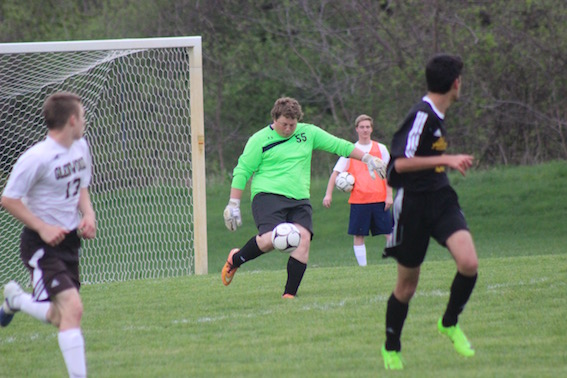 Hang on for a minute...we're trying to find some more stories you might like.
As the Boys' Soccer team's long and tough, three game week came to an end they took three hard losses. Their last loss being against Denison, 0-7.
Atlantic has never beaten this team in soccer, goal Kyle Redinbaugh had some thoughts on not only this game but his soccer experience throughout life.
Redinbaugh said the "first half we played pretty good and then we just fell apart in the second half." He also said that the team "usually plays best in the first half". The team had their head up for the longest time because Denison "only scored once in the first half"
One of the biggest fears for a goalie is one-on-one's and Redinbaugh said the biggest problem was we "had a lot of one-on-one (goalie vs. a forward) and I can only stop about 50 percent of those" Denison was sending the ball over the top of our defenders, so it was always "right in my face."
Kyle has been involved in soccer since he was little, first grade. There his mom was the coach, he said my mom didn't know a lot back then, but she knew enough for us to all have fun. He continued to play because "soccer was just more fun, all my friends did it."
Soccer is a mental sport, you have to know what you're going to do before you get the ball "you can't do anything, without everybody," says Redinbaugh.
This sport wouldn't be here without a coach, the current soccer coach is Justin Williams. Kyle said "the thing I like about coach is that he sticks up for us when something bad happens."
"The biggest thing after the other team scores is I have to figure out what I have to do better next time. It's just like in life, when you make a mistake, you have to figure out what you did wrong and fix it," said Redinbaugh.
Something he wants the freshmen to know is "make sure you work hard, if you want to get any better, you have to work hard," especially for what you want.