HOUSE and PHILOSOPHY edited by Henry Jacoby – Book Review by Behka Koontz
Hang on for a minute...we're trying to find some more stories you might like.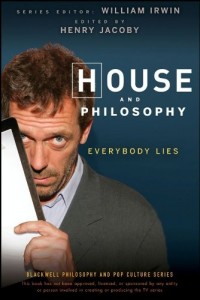 "Everybody Lies."  This is the statement printed in bright yellow on the front of this exploratory book by various authors, edited by Henry Jacoby.  The book examines the infamous television character Gregory House from the self-titled show, House (aired on FOX) and philosophy.  The book is part of a series created by William Irwin, which dissects TV and its philosophical implications.  The book's premise is immediately appealing but it is by no means a light read.
As I read through the book, the usage of other resources was quite necessary.  That said, if your interests lie in philosophy or even psychology, the book keeps your interest and expands the way you look at how seemingly easy decisions and consequences are dealt with.  The book addresses theories that make House both a moral, super-being protagonist and a drug-addicted, irresponsible antagonist.  Whichever way you see it, if you are willing to take on a dictionary-necessary book, this book will pay in dividends.