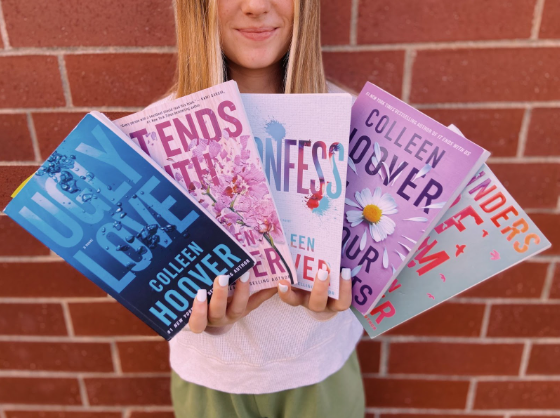 It Ends with Us Reviews
December 9, 2022
Colleen Hoover has been one of the most popular young adult authors. Most popular on "BookTok," her books have been trending. Her most famous book is, "It Ends with Us." In AHS, English teacher, Katie Hedegaard has been reading the books, along with freshman Jayci Reed. They bond about their favorite parts of the books. They both really like "It Ends with Us" and reviewed it.
Jayci Reed
I really enjoyed this novel because Lily and Ryle's relationship had a lot of twists and turns which ended up having Lily leave him after she was abused by him at the end of It Ends with Us. The novel, It Starts with Us, is the sequel and I loved this novel. I had to wait for it to be released and pre-ordered online. I never got bored of the storyline. I literally gasped during certain sections of the novel because there was something surprising constantly happening! I loved that at the end of the novel she and Atlas are together and in love. It was beautiful. That is what love is. It is not violent, it is affection and protection, and Atlas was Lily's protector.
Leave a Comment
Katie Hedegaard
I enjoyed It Starts with Us! It is a sequel to It Ends with us. It was really neat seeing Atlas' brother come into the storyline and get to know who his mother truly was. I also enjoyed reading about the drama between Lily, Atlas, and Ryle. We were able to see Atlas' point of view throughout this novel instead of seeing everything from Lily's perspective. The author was able to bring in pieces of It Ends with us as Lily's journal was reread by Atlas. I thought Ryle seemed more violent in this novel as he was so angry at the world. Lily chose Atlas after all and Ryle could not handle that. When Ryle found out about Lily and Atlas rekindling their love for one another Ryle flipped like a switch and became the violent man we met in the first novel instead of the changed man he tried to become. Even though Lily and Ryle were divorced, Lily had to see him as they co-parent their daughter, Emerson. This caused a lot of drama and I didn't know what would happen next. The novel was a page-turner and I finished it in less than a week! I highly recommend these books to everyone!
Leave a Comment