CLASSY by Derek Blasberg – Book Review
Hang on for a minute...we're trying to find some more stories you might like.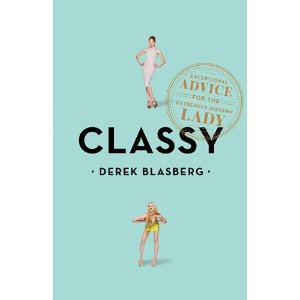 by Behka Koontz
"Exceptional advice for the extremely modern lady" is stamped across the front of this turquoise book.  It makes the book sound as though it is a prim and proper book for those who are serious about etiquette, but author Derek Blasberg adds a touch of humor and real-life experiences to make it realistic and readable.  It achieves the goals of making every girl feel like she can be a lady.  However, the book is more of a pep talk about treating yourself well, rather than the tricks of etiquette.  The majority of the information covered is common sense, while there are good lessons about using chopsticks or setting a table.  That said, the playful lessons, witty retorts, true-life stories of Blasberg's girlfriends, and quotes from "ladies" throughout history make this book interesting and applicable to today's society.  This is a great book to read if you enjoy learning how to better yourself as a woman but cannot stand reading stuffy magazines and books like your mother.