There are a few new faces around Atlantic High School. One in particular not only has an exciting background but also an intense passion for teaching. Jessica Bacariza grew up in Maasin City, Southern Leyte, Philippines and her answer to the popular question, "What's your dream job?" was always "I want to become a teacher someday."
"
I want to become a teacher someday.
— Jessica Bacariza
Teaching was always on the radar for Bacariza. "I was influenced by my aunt who was a teacher in the Philippines and my favorite teacher in third grade," said Bacariza. That's why when she graduated high school, she took the education course and became a licensed teacher in the Philippines and Iowa.
Bacariza graduated with a bachelor's degree in secondary education majoring in English in 2016. She finished her master's of arts and education with a major in educational management in 2021. She taught both elementary and high school English in the Philippines but focused mostly on the elementary departments. "I'm excited to be able to teach high school students again," she said. Bacariza will be teaching the sophomore English and Language Arts classes at AHS starting on Sept. 5, 2023.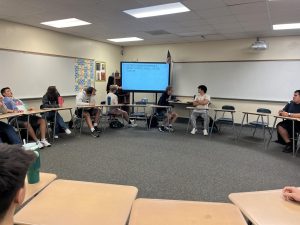 Bacariza arrived in the U.S. with her husband and two kids in June 2023. She had a job in New York but decided to search for a different one and found that AHS was in need of an English teacher. "I'm excited to meet my students since this is my first year here," said Bacariza. "I want to see my students' learning styles so I can use different teaching methods that will suit their needs."
Outside of the classroom, Bacariza and her family love to visit Nebraska where her husband's parents live. They all enjoy visiting the park and attending events while there. Outdoor activities are one of Bacariza's favorite things to do.
"
I'm excited to meet my students since this is my first year here,
— Jessica Bacariza
Bacariza's goals for the coming year are to teach her students well by "enhancing their love for literature" so they will learn to enjoy the subject matter they go over. Overall, Bacariza has a deep passion for teaching and cares for the students like no other. "I pray that I will be able to teach my students well and that they will love and respect me as their teacher," she said. "I know each teacher wants their students to learn and for me being a teacher is my dream job so at the end of the day, I want my students to learn something from me."