⚠️ Time to BeReal ⚠️
One of the most popular apps right now is BeReal.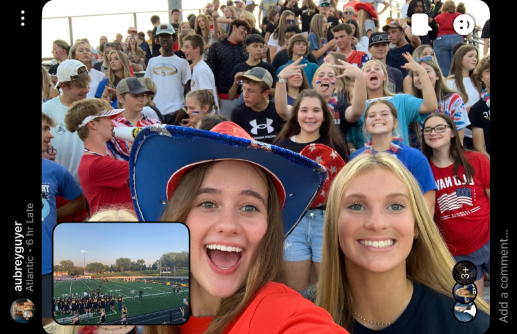 No matter what time of the day it is, when BeReal goes off, you drop everything. BeReal is a fun app that 21.6 million people are using every day. You usually know when BeReal goes off because everyone starts saying "It's time to BeReal" or "BeReal went off." 
BeReal is an app that goes off at any time of the day and when it goes off you have two minutes to capture a photo of what you're doing. The app uses your front and back cameras to take a unique photo. It is the kind of app that is carefree, stress-free, and calm. You don't have to worry about looking good, and you don't have to worry about weirdos seeing what you are posting. Once you take a photo your friends get notified that you took a BeReal and they can "react" to it. With the emoji, you can take a picture of your face trying to recreate the emoji. 
Junior Alyssa Neal, who recently just got the app, says she "Loves it so much." She thinks the app is the perfect way to show how normal your life is other than making it seem crazy and fun. She looks forward to it every day and reacts to people's BeReals. Some things she would change about it are moving it to four minutes instead of two, and being able to choose what kind of emojis you can use. 
Another BeReal user, sophomore Marissa Wheeler, has had the app since August. She says the app gets annoying after BeReal goes off because of all the notifications that keep going off. She also doesn't like the times that it goes off. She wants it to be at a certain time range every day. Wheeler says she likes how you don't have to look good to take a BeReal. Sometimes she feels forced to react to BeReals because she feels bad if people react to hers and she doesn't react to theirs. She also wishes they would give her more options when it comes to reacting to other people BeReals, she wants more variety of emojis.  "It's fun to see what other people are doing," said sophomore Morgan Botos.
BeReal also offers you to post late if you don't get to post right away. Some people post two minutes late, others post 14 hours late. So if the notification goes off and you don't hear it, see it, or get it, you can always post late. 
People have learned that they usually don't care about what they look like and that it's not like any other app. They like that it is laid back, not fake, and stress-free from all of the pressure that social media apps usually give off. Now whether this will be an app 10 years down the road or not, this is a great way to start turning social media around for the better. Your BeReal is now posted and you're getting notifications left and right.