Heroes of Atlantic: Steve Andersen
He gives back to the community by spreading Christmas Cheer and volunteering his time to help others.
The Gingery Log Cabin, built by John Gingery, was once a single-room schoolhouse northeast of Atlantic. Now it sits in City Park and transforms into Santa's Cabin during the winter holiday season. Santa Claus himself has been visiting the cabin for over two decades to ask children what they want for Christmas. The tots see jolly St. Nick, but adults local to Atlantic likely recognize a familiar face under the big white beard: Steve Andersen.
Andersen initially started playing the role of Santa for his family, but soon started doing Santa visits for others. "I've always been built like Santa, but it started when I first saw a Santa costume at a Menard's…I picked one up and thought 'Oh, it'd be fun to do that' and it took off from there," he said. 
Andersen said playing Santa has made him a better Christmas shopper because he "knows what the most popular toys are," but he also loves seeing the Christmas spirit glow in the kids he sees. He said, "Santa's just magic, and I love seeing that." 
Andersen's presence has been a talking point of Atlantic for years, especially since the town was named the Christmas Capital of Iowa in 2019. Andersen can also be found as Santa riding on a firetruck at the town's Lighted Christmas Parade the first weekend of December.
Last year, however, the final visits to Santa's cabin had to be canceled, because on December 23, 2021, Andersen's only son, Avery, 20, passed away in a tragic car accident. Avery was a junior meteorology major at Iowa State University, as studying the weather was something he was dedicated to. He also loved counseling at Ingham Okoboji Lutheran Bible Camp and "did that for as many years as he could."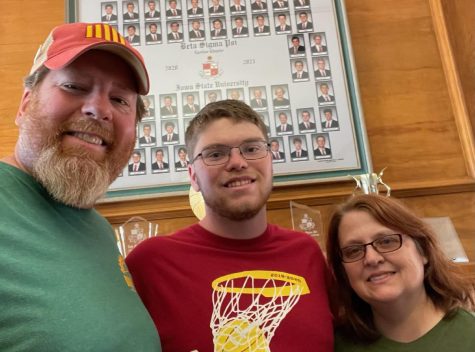 Andersen appreciates it when people talk about Avery, saying, "Some people are afraid to talk about [him] because they're going to make me sad. I'm already kind of sad and I'm already probably thinking of him, and I'd much rather talk about him." Although Avery's passing was hard on Andersen and his wife Sue, they are finding ways to give back to the community in his name.
"As parents, we wanted [Avery] to not be forgotten…He had so many things that were important to him that we wanted to contribute back to, and Atlantic High School is one," he said. "We will award the first scholarship next spring. The Avery Andersen All-In Award is for someone who's involved in many different activities just like he was. We did one for the meteorology department at Iowa State which is something he was also very passionate about," Andersen said.
The foundation will also be contributing a scholarship to Avery's fraternity, Beta Sigma Psi, called the Avery Andersen Spirit Award "because if you knew Avery, whether it was here or at Iowa State, he was the biggest fan, and would run around and act crazy, and yell, and scream, and so someone with that kind of spirit, that's who we want to award that one to." The Andersens will also be giving back to the Bible camp that Avery counseled at.
The starter funds for the Avery Andersen Foundation came from the "generous" gifts after the loss of Avery from people in the community. "We're happy to be able to give back to the community," he said.
"
It is important to give back to the community as much as you can. I wouldn't want to live anywhere else other than right here in Atlantic, Iowa.
— Steve Andersen
That wasn't the only time the community came to help Andersen during a time of need, because again, hardship struck in the early hours of November 16, 2022, when his business caught fire. "Atlantic has done so much for us. We've had some hard times lately…They were very generous when we lost our son last year and even more recently, we're dealing with a fire that burned down my business, and people have reached out and offered to help. They're very supportive. People have been praying for us this whole time."
Besides playing Atlantic's own Santa Claus, Steve Andersen is also active in his church, where he helps out with the youth as much as he can. He also volunteers on the Family Crisis Support Network Board of Directors and announces all of the home football games for the Atlantic Trojans. Andersen said, "I sure don't consider myself a hero, whether hometown or otherwise, but I will [say] it is important to give back to the community as much as you can. I wouldn't want to live anywhere else other than right here in Atlantic, Iowa."