"Doing the Right Thing"
State Trooper Shelby McCreedy talks to AHS about Cyber Security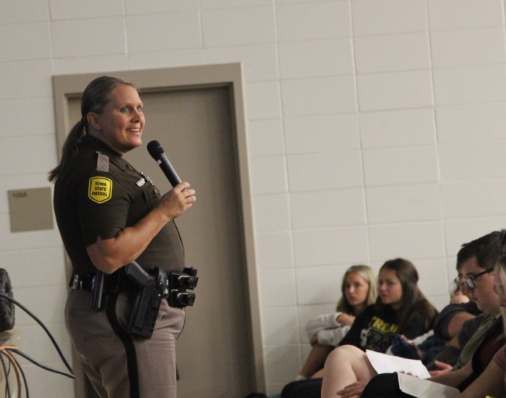 Shelby McCreedy, an Iowa state trooper, gave a talk about internet safety on Sept. 1 during seminar. McCreedy became a patrol trooper in 1998, but before that she was a criminal investigator for 11 years. She has a lot of experience in crimes that involve the internet. McCreedy started off her talk with the reason she was there. "I want to save you from yourself," she said. She loves talking to high schoolers, but she hates that so many of them do not take her seriously. McCreedy explained the difference between cyber security and cyber stupidity. She said that young kids were good at cyber stupidity, but "sucked at cyber security."
Cyber stupidity is an epidemic impacting high school-aged students. It is when someone is being careless on the internet. Every time someone opens their phone, they are leaving "evidence," or a trail that shows exactly what they've done. The police have access to everything on everyone's phones, and they do not need a minor's parent's permission to access it. She told the students that the things they think are gone, are not. For example, "snaps" on Snapchat do not actually disappear after 24 hours. McCreedy said all the police have to do is look at a phone, and if it has nude photos, the owner now has a felony.
It is a felony for every nude photo you have distributed, taken, or are in possession of. For example, every time someone takes a nude picture or distributes a nude photo, they will be charged with a felony. The same goes for being in possession of other people's nude photos. To strengthen her point, McCreedy told the students about 28 kids in another high school in Cass County who were arrested for trading pornographic pictures of each other. 
These 28 kids were part of a "game," where a student had to add a nude photo to the chain of nude pictures in order for the game to continue. If you did not add a nude photo, you were shamed and bullied for it. The police knew about this game, but the school wanted to give them a chance. They asked McCreedy to come to talk to their students. The high schoolers did not take her seriously, and all of them ended up getting arrested over a week later. The impact of these felonies goes beyond your high school years. These marks will impact your college admission, future jobs, future relationships, etc.
According to the Cybersecurity and Infrastructure Security Agency, "Cybersecurity is the art of protecting networks, devices, and data from unauthorized access or criminal use and the practice of ensuring confidentiality, integrity, and availability of information." McCreedy told the students that security doesn't exist. You can never be completely secure. She hates the internet, especially social media because it "fosters mental health issues", and everyone can see what is going on in a person's life. This makes stalking a lot easier. That is why it is important to change passwords as often as you would "change your toothbrush." She said, "Ignorance is dangerous." Be aware that "you don't know what you don't know."
English teacher Terri Cook-Theilen said "I thought the talk was good, I thought it was important and timely. There was a lot of good information."
Junior Alyssa Neal said the talk was "good." She said, "It was really eye-opening for a lot of kids in the school."
Senior Ally Petersen said, "I understand that she wanted to get a strong message across but it felt like she assumed then wrong of all of us, which seems very patronizing to me."